Here Comes The Judge
U.S. District Judge Richard Leon, the same federal judge who previously oversaw and signed off on the Comcast (CMCSA)/NBCUniversal deal, has been assigned to the U.S. Justice Department's (DoJ) lawsuit to block the AT&T (T)/Time Warner (TWX) merger.
As most readers are undoubtedly already aware, the DoJ filed suit, claiming that the proposed merger in its current structure would result in less choice and higher bills for consumers and, in the words of Makan Delrahim, newly appointed head of the DoJ's antitrust division, limit the development of "new, emerging innovative options that consumers are beginning to enjoy."
Deja Vu All Over again
If these concerns sound like deja vu all over again, it's because they are the same ones used by opponents of the Comcast/NBCUniversal deal when it was reviewed by Judge Leon back in 2011. As a condition of the DoJ's approval at the time, had Comcast already agreed to a host of conditions and rules that it would abide by to ensure that the merger did not stifle competition in the media industry, but it was not requested by the DoJ to structurally change the makeup of the combined entity.
When presented with the solution agreed to between the DoJ and Comcast/NBCUniversal, Judge Leon, being no proponent of government oversight, expressed his doubts that the agreed upon conditions would be subject to any effective oversight or enforcement and that online video content distributors such as Netflix (NFLX) could be placed at a disadvantage with no effective remedy when he wrote:
"The government's ability to 'enforce' the final judgment, and, frankly, this court's ability to oversee it, are, to say the least, limited."
As a result, he imposed a few of his own conditions, primary among them that the merged entity report to the DoJ any arbitration claims brought against it with regard to content disputes. Skeptical as Judge Leon was, however, he was not about to overturn decades of anti-trust precedent regarding vertically integrated mergers, and he ultimately approved the deal.
Comcast/NBCUniversal Merger Hasn't Hindered Competition
Of course, with the benefit of hindsight, the judge's 2011 concern for the wellbeing of Netflix seems quaint to say the least. In fact, the success of Netflix and other online video entities that have proliferated and thrived in the six years since the judge approved the Comcast/NBCUniversal deal is likely to be Exhibit A and proof positive that the nearly identically proposed vertical merger of AT&T/Time Warner won't hamper competition nor limit consumer choice. No doubt an argument could be made that AT&T and Time Warner need to combine forces in order to remain competitive themselves or continue to lose market share to OTT services and content.
AT&T's Words May Come Back To Haunt It
For his part, Delrahim, who has pushed for a structural solution by insisting AT&T divest itself of its DirecTV holdings, or spin off Time Warner's Turner Broadcasting division, which includes TNT, Turner Sports, and CNN, is likely to use the merging party's own words against it. For example, as AT&T and TWX management justified the merger to shareholders, the combined entity was characterized as providing a competitive advantage in the overall media space, resulting in more profit for investors. An excerpt from the DoJ's filing gives us a hint at its strategy, when on the very first page it cites:
"As AT&T has expressly recognized however, distributors that control popular programming have the incentive and ability to use (and indeed have used whenever and wherever they can) that control as a weapon to hinder competition."
Plenty Of Drama And Anyone's Guess On An Outcome
Adding to the drama, especially in light of President Trump's claim while he was still a candidate that he was not in favor of the merger when it was first announced, and his very public and ongoing feud with CNN over what he deems as "fake news", is Makan Delrahim – himself a recent Trump appointee – insisting that CNN be carved out of any merger before he would bless it.
No doubt with valid arguments from both sides of the coin and plenty of drama to speculate on, M&A experts and armchair attorneys alike will have more than enough material to discuss the merits of the case and the likelihood of the merger being ultimately approved or not. That question, however, is really moot for our purposes. The real question investors should be asking is not necessarily "How will the court decide"? Rather given that the situation has come down to a binary outcome, the question should be "How will the stock react if/when the merger is approved/not approved and what, if anything, should I be doing about it from an investor standpoint?"
What's An Investor To Do?
Regardless of the legal precedent, various merits of either position in the case, or jurist disposition, what does this all mean from an investor perspective? How is the stock likely to react when a ruling is eventually made one way versus another? What should current shareholders do, if anything, to hedge their positions against further downside? As shares are trading just off lows for the year, and likewise trading at close to a low on an earnings multiple basis, is this an opportunity to establish a position ahead of a potential upturn or a value trap?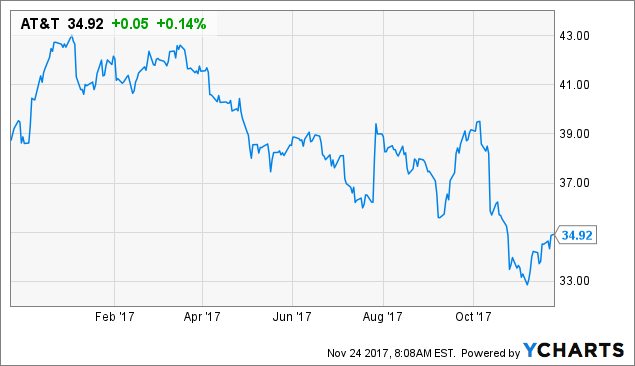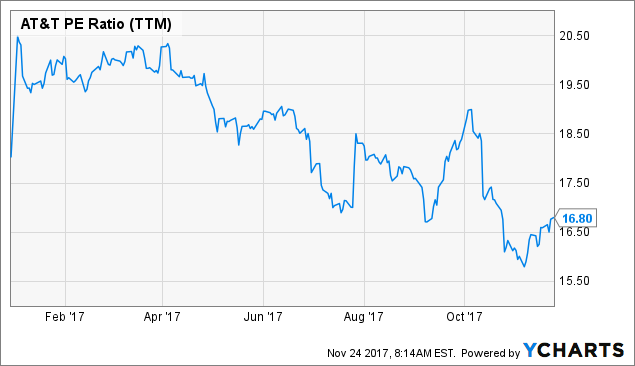 T PE Ratio (TTM) data by YCharts
If the court ultimately rules against the approval for the merger, it certainly would be a setback for AT&T CEO Randall Stephenson's strategy of building an integrated network of broadband, content, and distribution. But it would not mean that strategy cannot still be achieved.
Certainly with regard to its sheer size and collection of content, adding Time Warner with a single stroke of the pen is preferable to adding the various pieces on a more ad-hoc basis over time. To be sure, without the content ownership Time Warner brings to the table, AT&T would have less leverage over content costs and distribution rights than it otherwise would have, but regardless, with or without Time Warner, AT&T would still need to acquire additional content rights from third parties. Therefore, its business plan would not be ultimately defeated if the deal doesn't happen, and the long-term strategy would remain intact with or without the deal.
In the near term, as I had pointed out in a previous article, the actual financial impact of a broken deal would be relatively minor to the company the size of AT&T, as it would be required to pay a $500 million breakup fee. In addition, debt issued to fund the cash part of the deal would be redeemed at 101% of the principal amount plus accrued but unpaid interest – approximately an additional $300 million. As a result of the redemption of the bonds, the balance sheet would immediately be delevered, taking pressure off the company's credit rating status, which would benefit bondholders, and income focused shareholder could breathe a sigh of relief as speculation over the continuation of the dividend would subside.
In other words, without Time Warner, life goes on for AT&T. While the stock may take an additional hit if this time Judge Leon rules against a vertical merger, such a reaction would likely be short-lived and provide value hunters with an even more attractive entry point.
I think the more uncertain and perhaps more interesting scenario would be if the deal is ultimately approved. Especially if, as often happens in Judge Leon's courtroom, the case drags on longer than anticipated.
Currently, and as long as the legal review drags on, AT&T's cash flows will be pressured as it is saddled with servicing the $30 billion of incremental debt of the aforementioned bonds – without the benefit of additional cash flows from Time Warner.
And if/when the deal is finally approved, management has a lot of wood to chop, and quickly, in order to implement synergies and start to reduce and sustain leverage back towards the 2.5x or lower level as it has expressly indicated would be its focus. To do so, my guess is that management's strategy would be to incrementally raise the price of its broadband access. However, any conditions that Judge Leon may impose, as he did with the Comcast/NBCUniversal case, on the combined entity's ability to raise prices anywhere along the value chain may throw a wrench into those works.
Therefore, if the merger is ultimately approved and successfully completed, cash flow needs to improve and/or leverage needs to be reduced below 3x EBITDA on a sustained basis, or the company could be further downgraded. If there is one thing management is committed to more than sustaining and growing the dividend, it's maintaining its investment grade credit status. A downgrade to non-investment grade is NOT an option.
Investors hate uncertainty, and the AT&T/Time Warner merger is definitely in an uncertain territory at this juncture. Long term, an approval and successful integration of the merger is the best scenario for shareholders and bondholders alike. If the deal gets rejected by the courts, expect shares to take a quick dip and be prepared to buy on the news before cooler heads realize that it's just back to business as usual for AT&T. If the deal is approved, expect the stock to continue to be under pressure as management has a lot of work to do to prove the merger is a profitable one.
Disclosure: I/we have no positions in any stocks mentioned, and no plans to initiate any positions within the next 72 hours.
I wrote this article myself, and it expresses my own opinions. I am not receiving compensation for it (other than from Seeking Alpha). I have no business relationship with any company whose stock is mentioned in this article.
Originals drive creativity, innovation and ultimately change the world. History's best minds have a lot of things in common. Every great achievement you have heard about or probably used came from exceptional thinking. From Einstein to Jobs, and Musk, here are five things the world's greatest minds have in common.
1. Exceptional thinkers start their day on purpose
Success can only be achieved by design. Without a plan, you can't make progress. In as much as original and exceptional thinkers embrace the opportunity to defy convention, they maintain schedules that make it easy for them to get things done.
They do their best work on purpose. Their deliberate actions make the biggest difference in how they achieve their goals, visions, and purpose in life. They value improvement, hence the need to keep schedules that allow them to live in the reality of making progress. Exceptional innovators are constantly fixing and iterating. 
2. Great thinkers look for patterns and connect ideas
The ability to make meaning from unrelated ideas and information is unique. Most innovators are great at it. It's called Apophenia, the tendency to attribute meaning to perceived connections or patterns between seemingly unrelated things. 
Original thinkers and creative people intentionally look for patterns within their industries and other unrelated industries to be able to spot relationships that others cannot.
After dropping out of school, Steve Jobs wandered into a calligraphy course. It seemed irrelevant at the time, but the design skills he learned were later useful when he built the first Mac Computer. You never know what will be useful ahead of time.
Steve once said, "You can't connect the dots looking forward; you can only connect them looking backward. So you have to trust that the dots will somehow connect in your future."
The best minds in the world are great bridging the gap between unrelated concepts and ideas.
3. They value learning 
Curiosity is a big driver of creativity and novelty. Creativity happens when you make the effort to learn or try something new every day. Original thinkers know and understand the importance of connecting ideas, even the most remote ones to create something truly unique. They learn new skills that complement what they do. 
At the age of 14, Leonardo da Vinci began a lengthy apprenticeship with Andrea del Verrocchio, a well-known artist in Florence. He was exposed to a vast range of technical skills including, metalworking, leather arts, carpentry, drawing, painting, and sculpting. He learned a wide breadth of skills. 
If you're a writer, you could take up photography. Start enhancing your career with the skills that complement it. The connection between ideas doesn't happen unless you explore it a little.
4. They are insanely curious
Nothing beats a curious mind! Great minds make room for different mental models. They don't disregard other ideas. They look for meaning in every pursuit. The most innovative and exceptional thinkers in the world are also the most inquisitive among us.The best way to connect dots is to be intellectually curious about the world around you.
F. Scott Fitzgerald, a great American novelist once said, "The test of a first-rate intelligence is the ability to hold two opposing ideas in mind at the same time and still retain the ability to function." 
Einstein made a profound statement about questioning and staying curious. He once said:
"Don't think about why you question, simply don't stop questioning. Don't worry about what you can't answer, and don't try to explain what you can't know. Curiosity is its own reason. Aren't you in awe when you contemplate the mysteries of eternity, of life, of the marvelous structure behind reality? And this is the miracle of the human mind — to use its constructions, concepts, and formulas as tools to explain what man sees, feels and touches. Try to comprehend a little more each day. Have holy curiosity."
Maintain to curious mind to explore and discover amazing ideas, innovations, and products that could spark new concepts for your next big idea. To improve your sense of curiosity, all you have to do is to embrace new ideas and try new things to stimulate your mind and senses.
5. Exceptional minds take productive breaks
According to research, your brain gradually stops registering a sight, sound or feeling if that stimulus remains constant for too long. You lose your focus and your performance on the task declines.
Great thinkers make time on their calendars to think, wander and refresh the brain. You can't benefit from focused attention for too long. Sustaining attention on a task for an extended period of time can deplete your ability to think and create.
 Successful innovators and original thinkers know the importance of stepping away from projects briefly to re-conceptualize the problem with new perspectives.
Take intentional breaks by going for long walks, meditating, exercise or indulge in daydreaming. It pays to connect with your subconscious.
I don't know I've reached Snap's global headquarters until I am standing in front of them, leaning on the handle of my rolling suitcase and puzzling over a map app. A baby-faced security guard in braces approaches me. "I'm here to see Evan Spiegel," I tell him.
Earlier, when I'd asked for a tour of Snap's offices, the company spokesperson said it would be hard. This doesn't make sense until I am on campus, which is marked by a door mid-block with a small wooden sign that says in nearly invisible script: Snap Inc. It's designed to be missed. The building's last tenant was the actor Matthew McConaughey and, fun fact, McConaughey's former bedroom is now a conference room called Cuttlefish. The campus is really just a half-dozen unmarked buildings up the street from the Venice Beach Boardwalk, each about the size of McConaughey's former abode, with white shades pulled down over the windows.
Yet it's extraordinary that I'm here at all, considering how the company has interacted with the public—which is not very much. Since Snap launched six years ago, founders Evan Spiegel and Bobby Murphy have preferred to keep a very low profile. "I really am trying to do a better job communicating," Spiegel told an audience at the Vanity Fair conference last week. "You know, we run a survey across our company and…overwhelmingly this year it was like, we want to hear more from you and I'm like…really? All right."
As CEO, Spiegel has given few on-the-record interviews to the press, and even within the company, he has preferred to work with small, product-focused groups. In contrast to the large tech companies to which Snap is often compared, which create press events out of product launches and use conferences and interviews to allow their founders to become the company's public face, Spiegel has preferred to let Snap's products speak for themselves. For a long time, that strategy worked, allowing Spiegel to parlay the service into a global messaging app with 173 million daily active users who publish three billion photo and video "Snaps" every single day.
But that was before Snap went public. In the seven months since, the stock has lost nearly 40 percent of its value as investors question its strategy and its growth prospects. One of the most significant demands of a public company is that its leaders communicate—constantly—about their plans for the future and the progress they are making. The challenge Spiegel now faces is that he must help a much broader variety of people—investors, analysts, reporters, potential hires, and its current employees—to understand Snap's vision, and persuade them of its capabilities without losing the company's long-term focus on innovation.
Spiegel knows it means he has to change. "I think evolving really quickly is part of the job here," he tells me. We sit in a lofted conference room in a building across the street, and he is dressed in black jeans and a t-shirt with white sneakers, one leg crossed over the other, smiling. "In the beginning, the most valuable thing for me to be doing was work on the product, and now one of the most valuable things for me to be doing is communicate. I've had to really shift my perspective for what I consider valuable."
That perspective shift is why I have come. Today, Snapchat is launching Context Cards, which allow users to swipe up on some Snaps to find out more information and connect to other services such as Lyft or OpenTable. Snap has always based its product on the idea that images are their own context—that in the mobile era, they're evolving into their own form of communication. By adding words and information, Spiegel is elevating them further, inviting Snap's users to act on what they see by searching and discovering directly through images.
It's not yet clear that Spiegel will have what it takes to build Snapchat into the type of company that competes with the likes of Google and Facebook. It's not clear that he'll be able to expand beyond his core user base—young people, particularly those under 25, who spend an average 40 minutes every day on Snap, according to the company. (That's more than Instagram, which recently announced that its users in the same age range spend 32 minutes daily on the service.)
But what is clear is that Spiegel knows something about how to build products for this fundamental communication shift. From the moment he turned down Facebook's $ 3 billion acquisition offer, the behemoth social network has been copying it. Stories has become embraced as a format for sharing mobile visual information just as Facebook's News Feed became the dominant format for the last decade of social services. So when Spiegel, who had the foresight to grok this change, offers to talk, it makes sense to listen.
Spiegel's vision for Snap begins with the assumption that most pictures aren't precious. Rather, images are evolving into a new language, and as the tools to capture and manipulate them become more ubiquitous, we are able to express ourselves more frequently and fully. That's why the app he launched opens to the camera, and that's why he calls Snap a "camera" company. Like phone calls, Snaps aren't intended to be stored so much as they're meant to be absorbed, decoded, and released.
With Context Cards, Spiegel is attempting to rethink the way we discover new information. Currently, he explains, people find stuff on the internet by typing queries into search boxes and following hyperlinks to the content. Consider a YouTube video. "You upload the video, and you tag it with a bunch of text," says Spiegel. "If you want to go find that video again, you type in the text and it surfaces the video." In other words, the text directs you to video.
On mobile devices, Spiegel believes that the order is inverting. Users will instead begin with images and video that will direct them to text—and more images and video. He pulls out his Samsung J5. (He regularly switches up his phone, but, he says, "I'm kinda stuck on this phone for now.") Spiegel opens Snapchat and taps on a story featuring a restaurant with the miniscule "more" icon at the bottom. He swipes up to reveal a card that looks a lot like the screens that pop up on Google Maps when you search for, say, a drugstore. It offers contact information, hours of operation, and directions to the venue, as well as reviews, maps, tips, and more information about whatever is in the Snap. Want a ride to that beach bonfire where your friends are roasting marshmallows right now? Care for a reservation at that fried chicken joint you stumbled across on Snap Map? Snap has struck partnerships with a host of services including Lyft and Uber, Tripadvisor, OpenTable, and Foursquare to offer services and information.
Context Cards in action.
Courtesy of Snap
Many of the locations will also have Stories integrated into the cards. These Stories will feature Snaps that users send to the public "Our Story" option, curated through machine learning and human selection in the same way they're curated for Snap Map. In some cases, Snaps will disappear after 24 hours, but in other cases they may remain longer. In time, partners may also choose to provide images. It's clear that Context Cards will appeal to advertisers looking for new ways to win attention from Snap's users. And, of course, they may appeal to investors looking for new business opportunities within the service. Snap will wait to see how users embrace this new approach to discovery before the company attempts to make money off of it.
That is, assuming Snapchatters embrace Context Cards at all. There are good reasons to assume they will. Like Twitter or Facebook or any social service, Snap's design can be confusing to people coming to it for the first time. For one, it relies on a network effect, which means it's a lot more interesting when you discover that your friends are already there and using it. Also, there are no directions for a new user; you figure it out by messing around on it. But just as Twitter's users eventually figured out the hashtag and the significance of adding a period before the "@" sign in a Tweet, Snap's users have grown up inside of it and grown accustomed to its design. They visit it, on average, 20 times each day. They aren't blindsided when they open up to a camera. They're used to swiping up in order to discover new things because they've been swiping up on the Discover page to see more content, and swiping up on channels like Vulture or the New York Times to read longer articles. It's not inconceivable that they'll also swipe up on the Context Cards, though Snap will wait to review their interactions before developing it further.
Courtesy of Snap
What's more, these cards are a recognition of how people are already using images in social. Social has ushered in the age of the digital influencer, in which we make decisions about everything from where to eat to what dining room table to buy by scrolling daily through our feeds. We are living in the age of the Instagram restaurant. People are seduced by a personal story, and want the information to make it happen for themselves. In that way, the cards are a less of an innovation than a recognition of the power already embodied in Spiegel's product.
Spiegel takes pride in choosing to embrace ideas that run counter to those taken up by his Bay Area-based competitors. Among them is the need for speed in releasing new products. "One of the things that happens when you're an innovator is there's actually no benefit to being really, really fast," he says. "You're the one creating the new stuff, so there's no one who's racing you. It's actually very important that you are slow and deliberate." He says that when people join Snap from the Valley, they often want to ship products right away. "It's like, why?" he says. "That just doesn't make sense."
Growth, too, is not something Snap has valued above all else. Instead, driven in part by the fact that Snap rents its computing infrastructure from Google and Amazon and seeks to control its costs, Spiegel prioritizes attracting economically valuable users. In its most recent quarterly earnings, the company reported it had grown its user base by just 21 percent over the past year. But most of those users came from the lucrative North American market where Snapchat was also able to increase the amount of revenue it made per user.
Spiegel believes Snap's value is wrapped up in its ability to advance transformative new ideas. In the S-1 document that the company filed to go public, Spiegel wrote, "Our strategy is to invest in product innovation and take risks to improve our camera platform."
But it's not yet clear that innovation is a strong enough strategy for Snapchat to beat out competitors over the long run. Both Facebook and Google have made a practice of copying Snap's most significant developments. After Instagram launched a mimic of its Stories feature in August 2016, the service saw engagement escalate considerably, and Facebook has now rolled out a Stories clone in Messenger, WhatsApp and its flagship app. Meanwhile, Google is reported to be working on its own version of the multimedia format, codenamed "Stamp."
And more, it's not yet clear whether Context Cards qualify as an innovation, or if Spiegel is simply adopting the best aspects of other visual services. There are many social services that invite users to click on images to discover more information, from Instagram and Google Maps to Pinterest and Houzz.
If Spiegel's approach does take off among Snap's users, he runs the risk he always runs—which is that Snap has the vision to create new products in line with how a new generation wants to create on their phones, but it ends up being copied and spread by a company with a more user-friendly open façade and a broader user base.
Spiegel, at least, is certain his approach will work. He's betting the company's future on the fact that Snap will be capable of reinventing itself and its service over and over again to become the dominant tool for communication on the visual web. "We have an opportunity to really change things," he tells me, when I ask specifically about Snapchat's current culture. "If you look at the past five or six years, in every category—whether it's communication or media—we have absolutely transformed the technology landscape." He ticks through the impact he believes Snap has had on technology to date, including the shift in how we use cameras to communicate and the rise of new formats like Stories. "There is no better place to be than Snap right now," he says.
We shake hands and I stumble out to the sidewalk where, apart from the jovial security guard, there's little trace of the $ 17 billion tech company just a few feet away. This, too, will change. Many of the company's engineers have already moved to a much larger office a lot farther from the beach in neighboring Santa Monica in a building where Matthew McConaughey would likely never choose to live. Some time next year, Spiegel will join them in the new headquarters. The sign on the door—Snap Inc—will likely remain small.
Have you ever had to grit your teeth and "hang in there" while one of your holdings works through an industry trough? That's where we've been at with USA Compression Partners LP (USAC) for the past few quarters. As US drilling declined and picked back up, USAC, the leading US pure play compression company, has seen its DCF and distribution coverage falter due to a lagging effect – new compression demand tends to lag increased drilling by a few quarters. Its price/unit also suffered.
Fortunately, USAC has a very supportive general partner, USAC Compression Holdings LLC, which has continued to reinvest 50% of its quarterly distributions in USAC. This has allowed to maintain a "cash distribution coverage ratio" above 1x. (Left column is Q2 '17; right column is Q1 '17):
(Source: USAC site)
Here's how this has played out over the past four quarters – the DCF/Distribution coverage has below 1x, but due to the $ 6M-plus that has been reinvested each quarter, they've been able to maintain their $ .525 quarterly payout with a cash coverage ratio averaging 1.055x:
Management reaffirmed it's 2017 guidance on the Q2 earnings release. We've updated this table with the actual distribution figures from Q1-Q2, to compare them to the guidance figures.
If USAC maintains the current level of total distributions, their traditional DCF/Distribution coverage will be in a range of .84x to .95x, according to the DCF guidance range.
However, if their GP continues to reinvest its distributions in Q3 and Q4 '17, USAC's cash distribution coverage ratio will be in a 1.06x to 1.20x range.
In this table, we compare the actual Q1-2 '17 EBITDA and DCF figures vs. the pro-rated 2017 guidance figures. So far in 2017, management has achieved the low end of its guidance in both DCF and EBITDA.
However, there are reasons to believe that this will improve in the second half of 2017 and in 2018, which we'll detail in the Earnings and Back To The Future sections further on in the article.
Distributions:
USAC's next distribution should have an ex-dividend date sometime in late July. It pays in the usual Feb/May/Aug/Nov LP cycle. Management has maintained a $ .525 quarterly payout since August 2015, which is 23.53% above its targeted minimum quarterly distribution.
You can track USAC's price and current yield in the Basic Materials section of our High Dividend Stocks By Sector Tables.
Unit holders get a K-1 at tax time.
Note: Investing in LPs and MLPs may present tax complications when done in an IRA. Additionally, since LPs usually make tax-deferred distributions, you'd reap more tax benefits by holding them in a non-IRA account. At any rate, please consult your accountant about this issue.
Options:
We feature option-selling trades for USAC in our premium subscription service, which we can't reveal here, but you can see details for over 25 trades in our free Covered Calls and Cash Secured Puts Tables.
Earnings:
In Q2 '17, EBITDA was down slightly vs. Q2 '16, while DCF fell -11% due to "some acceleration in maintenance activities during the quarter, as demand for certain idle units in our fleet increased more than expected."
OK, so DCF was down due to increased demand – not a totally negative scenario – they needed to spend to prepare more machinery for future service.
Sequentially, this was USAC's best EBITDA figure since Q2 '16. Fleet utilization was also up, as they noted on the Q2 earnings call: "Our average horsepower utilization for the second quarter was 91.2%, up nicely from 88.2% in Q1, continuing the upward movement of recent quarters."
"We increased our core compression service revenues by about 5% over the first quarter and achieved a gross margin of over 67%, which was also up from the first quarter."
Here's what investors have had to deal with over the past 4 quarters, in return for receiving the steady $ .525/unit quarterly payout – flat revenue, EBITDA down -6%; DCF down -10%; DCF Distribution Coverage down -20%; and unit growth of 12.43%.
Like many of the companies we cover in our articles, USAC has long-term fee-based contracts. Management has also done a good job of keeping bad debt at a minimum, (less than 0.07% over the past 12 years), through partnering with larger, solid counter-parties, and maintaining long-term relationships:
We wouldn't be braving these headwinds over the past year if it wasn't for management's long-term track record of growth – EBITDA CAGR of 15%, Revenue CAGR of 16%, with margins above 50%, (and, of course, the steady distribution).
In addition, USAC has a long history of weathering natural gas cycles. Due to the critical need for its compression services – producers need compression to move natural gas through the pipeline system. This company isn't going away anytime soon:
Another factor which makes compression services "sticky" over the long term is the profile of natural gas wells in shale plays, which not only need more compression but also tend to have a long 20-year-plus life, after stabilizing.
Management has grown USAC's asset base considerably, but also made a savvy move in 2016 and 2017 – they cut capex substantially, in response to the downturn:
(Source: USAC site)
Back To The Future:
So, can USAC return to growth, or, at least get to better distribution coverage in the second half of 2017 and in 2018? Management thinks so. On the Q2 earnings call, they said the following:
Looking back on the quarter, we experienced increased activity on the part of our midstream and large E&P customers. This increase in demand has led to tightening in availability of certain types and classes of equipment, leading to increased fleet utilization, both for USA Compression as well as select sector peers. USA's larger horsepower fleet utilization is now back to levels virtually the same as before the industry decline, in the mid-90% area."

We also improved visibility regarding demand for our services and corresponding contracting activities, well into 2018. Given this tightness, we have increased the monthly service fees we charge on many types of equipment we use to provide our services." (Emphasis ours)

During the second quarter, we also saw strong contracting activity, signing new contracts for upwards of a 160,000 horsepower."

As of the end of the second quarter, we expect to take delivery of approximately 70,000 new-build horsepower in the second half of 2017, part of approximately a 125,000 total horsepower that is already contracted and expected to start in the back half of the year, further increasing utilization as well as revenues and cash flow."

For 2018, we've already contracted to build and take delivery of approximately a 150,000 horsepower throughout the year with the majority already spoken for by our core customers."

able to see increasing cash flows and increasing activity over the next — the rest of this year and well into 2018. We think we kind of grow back into a coverage level that's a little more attractive than where we are now."
Another positive note was that management doesn't see any more unit dilution in the near future: "We are not looking at any need for equity and we think that the business kind of naturally delevers over the course of the next two, four-plus quarters." (Source-Q2 earnings call)
Industry Tailwinds:
Management also addressed the changes which have been evolving in the industry on the Q2 earnings call:
"There is a fundamental shift occurring in the oil and gas industry as certain shale plays move from the exploration/exploitation mode into the development mode, driven in many cases by our larger upstream customers. This moment toward massive mining type, manufacturing oriented project results and initial production volumes in many cases approaching those of large offshore production platforms."
"Our business is driven by natural gas demand and production. As the industry has evolved into these larger projects, our large horsepower fleet sits right in the middle of it all. We continue to see significant activity by our customers, especially in the Permian and Delaware basins, and it is all focused on the very largest compression units in our fleet."
(Source: USAC site)
What's causing the increased demand for compression? US producers are adding rigs in key areas – excepting the Marcellus, which was up 73% from the trough, all of the areas listed below had rig counts up by triple digits as of 8/11/17.
(Source: USAC site)
As management noted in the earnings call, "The factors driving natural gas demand and the associated need for increased domestic natural gas infrastructure remain firmly in place – exports to Mexico, LNG exports, industrial demand, and gas-fired electric generation."
(Source: USAC site)
Risks:
As we noted earlier, USAC isn't currently covering its distributions in a traditional DCF/distribution model – its general partner, USAC Compression Holdings LLC, has been supporting the distribution by electing to reinvest 50% of its distributions into the company's DRIP plan, which affords USAC more cash to continue paying out that $ .525 distribution every quarter. If the general partner decides to stop reinvesting in the near term and USAC's anticipated earnings growth doesn't emerge, management may be forced to cut the distribution.
Hurricane damage – Hurricane Harvey caused some wells to be shut in within the Eagle Ford area – the net downside is unknown as of yet. "The shut-in wells also have disrupted natural gas pipeline flows into Mexico, one of the biggest purchasers of Eagle Ford gas, and caused prices to spike there." (Source: mysanantonio.com)
However, a 9/11/17 update from Forbes said that "A variety of midstream companies have provided updates on operations and the punchline is there has been very minimal damage and operations have either restarted or in process of restarting at various facilities. This is consistent for producers, with crude oil and natural gas production coming back on-line as well." (Source:forbes.com)
Analysts' Targets:
USAC is now 12.6% below analysts' current $ 17.60 price target, and 28% below the $ 20.00 high price target.
Valuation:
USAC's 13.44% yield dwarfs the Oil & Gas Equipment & Services industry's average 1.67% yield, while its Price/Book is considerably lower.
Financials:
The industry isn't known for high ROA and ROE figures – the amount of heavy equipment needed implies a large depreciation and amortization charge vs. net income, which makes USAC's tiny ROA and ROE figures look good by comparison. Its Operating Margin is also much higher than broad industry averages, while its Debt/Equity level is much lower.
Debt and Liquidity:
Management commented on current leverage on the Q2 earnings call – "Outstanding borrowings under our revolving credit facility as of quarter-end were $ 725 million, resulting in a leverage ratio of 4.94 times, consistent with the first quarter and well within our covenant level of 5.5 times."
The $ 1.1B credit facility matures in 2020. They had ~ $ 375M available as of 6/30/17.
(Note: we used trailing EBITDA to derive a 5.04x ratio, whereas management uses Q2's EBITDA annualized vs. debt, to come up with their 4.94x figure.)
Summary:
We continue to rate USAC a long-term buy. This is a company which has weathered numerous Energy cycles, and we feel that they will do so once again. Meanwhile, income investors receive a very attractive quarterly payout.
All tables furnished by DoubleDividendStocks.com, unless otherwise noted.
Disclaimer: This article was written for informational purposes only, and isn't intended as personal investment advice. Please practice due diligence before investing in any investment vehicle mentioned in this article.
Disclosure: I am/we are long USAC.
I wrote this article myself, and it expresses my own opinions. I am not receiving compensation for it (other than from Seeking Alpha). I have no business relationship with any company whose stock is mentioned in this article.
Tech
Photography Theme.
This theme is perfect for any photography blog/site. The background is a beautiful black and white photograph of trees.
Right-Sided 2 Columns.
Contact me if you need any modification to this theme.
Yoga Theme.
This theme is perfect for any yoga instructor or simply a fan. The header features a woman doing yoga on a beach. Beautiful relaxing colors.
Contact me if you need any modification to this theme.
Food Theme.
This wordpress theme is perfect for any food recipies blog. Or restaurent reviews site. Colorful.
Contact me if you need any modification to this theme.
Music Theme.
This wordpress thme is perfect for any music / mutlimedia related blogs or site. The header of this 2 columns themes features a glossy play botton, speakers and music waves. The theme is right sided.
Contact me if you need any modification to this theme.
Dog Theme.
This theme is perfect for any animal / dogs / pets blog or site. This Worpress theme header features a beautiful Malamute dog. This theme is a 3 column and is right sidebar.
Contact me if you need any modification to this theme.
Fashion Collage Theme.
This wordpress theme is perfect for any fashion, beauty, girly blog or site. The header of this right sided sidebar theme is a collage of many fashion photographs looks like their cut from a magazine. It has pretty bright colors and is a 2 column theme.

Contact me if you need any modification to this theme.