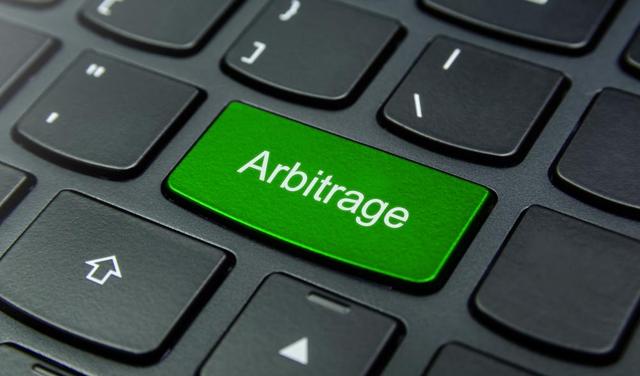 I've received questions from prospective subscribers about the types of trade alerts that we issue to the members section of the Cambridge Income Laboratory. One type of trade is CEF arbitrage, or more specifically a pairs trade, where we simultaneously identify an overvalued CEF and an undervalued CEF in the same sector. The strategy then entails selling or selling short the overvalued fund while simultaneously buying the undervalued fund.
The advantage of a CEF pairs trade is that because both the sold and bought funds are from the same sector, we aren't making a directional bet on the performance on the underlying assets. Instead, we're simply relying on the powerful concept of reversion of CEF premium/discount values (see Reflections On Chemist's CEF Report Pick Performance In 2017 for how this has worked well for us in the Chemist's monthly CEF picks).
There are two main limitations of the CEF arbitrage strategy. The first is that the magnitude of the gains are unlikely to be very large, simply because it is by nature a hedged strategy. That's the trade-off for the strategy being relatively low risk. The second limitation is that unless you already own the overvalued CEF identified in the pairs trade, you would have to locate shares of the overvalued CEF to sell short. With some of the smaller, less liquid CEFs, this can range from expensive to downright impossible. The most optimal set-up is therefore already owning the overvalued CEF, and then locking in profits by selling the fund and then replacing it with the undervalued CEF in the same sector.
With the introductory blurb out of the way, let's see how this has played out for one of the more recent CEF pairs trade that we identified in the members section of the Cambridge Income Laboratory.
About 4.5 months ago (see Sell This Investment Grade Income CEF Now), we noticed the premium of Western Asset Income Fund (PAI), an investment grade bond CEF, suddenly spiking up to +10.16%. The 1-year z-score was +3.6, indicating that this fund was significantly more expensive than its recent history. My comments from the initial article are reproduced below:
I was looking through the CEF database today and noticed the Western Asset Income Fund (PAI) trading at an exceptionally high z-score of +3.6.

Its current premium of +10.16% is at a 5-year high.

(Source: CEFConnect)
A 1-year z-score of +3.6 tells us that the premium/discount is trading 3.6 standard deviations above its 1-year historical value. Statistically speaking, this would be a 0.02% probability of occurrence, assuming that the distribution of values is normally distributed (which it isn't, but the point is that such a high z-score is a rare occurrence).
The 5-year chart above showed that the fund traded at quite substantial discounts over the past 5 years, sometimes exceeding even -10%. This makes the current premium of +10.16% even more unusual than the 1-year z-score of +3.6 would indicate.
At this juncture, I wanted to look at the entire history of the CEF since inception. Perhaps the past 5 years was just an anomaly, and that the CEF has commanded a consistent premium in the past? It turns out that was not so.
Going back to inception, only during a brief period in 2009 did the fund's premium exceed 10%. An unusually high premium for an investment grade fund might be understood during the immediate recovery period after the financial crisis…but why now? I can't think of a fundamental reason why someone would pay $1.10 for a dollar of investment grade debt.

(Source: CEFConnect)
I then check out the premium/discount values of the peer group. Maybe investment grade bond CEFs are for some reason on a tear thus accounting for PAI's unusual premium? Nope, that's not it.
The premium of PAI is 3rd-highest out of the 15 CEFs in the "investment grade" category of CEFConnect. But I don't consider PIMCO Corporate & Income Strategy Fund (PCN) and PIMCO Corporate & Income Opportunity Fund (PTY) to be traditional investment grade income CEFs, so not counting those two funds PAI has the highest premium in the peer group.

(Source: Stanford Chemist, CEFConnect)
OK, so PAI is a pretty good sell or short candidate. What did I pair my short PAI position with?
What did I pair my short PAI position with? I chose the BlackRock Credit Allocation Income Trust (BTZ). I wanted to choose a fund with a negative z-score, but rather amazingly all 15 investment grade CEFs had z-scores 0 or greater. BTZ's z-score of +0.8 wasn't the lowest, but its discount of -9.04% was the widest in the peer group, as you can see from the chart above.
Next, I wanted to see compare the price and NAV returns of these two investment grade bond CEFs to check if there were signs of deteriorating portfolio values in the undervalued CEF, which might cause me to consider BTZ as the long partner in this pairs trade.
The opportunity for the pairs trade comes from the fact that PAI's price return is significantly outpacing its NAV return, whereas that is not the case with BTZ. We can see from the chart below that PAI appears to be blowing BTZ out of the paper with a +19.29% YTD return compared to only +8.94% for BTZ.

However, their YTD NAV returns are nearly identical.
No warning signs there. That leads me to the conclusion that:
In summary, if you own PAI, now would be a great time to sell!
Let's see how the thesis played out 4.5 months later. BTZ had a total return loss of -3.88% over this time frame. That's bad, of course, but still relatively much better than PAI's loss of -14.1% over the same period. In other words, BTZ outperformed PAI by 10.22 percentage points in only 4.5 months, or about 27% annualized.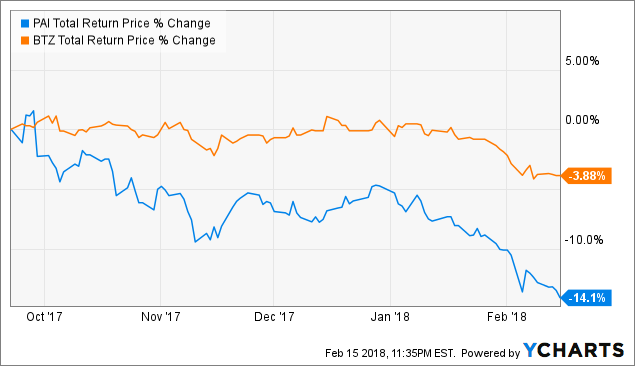 Did PAI's portfolio do much worse than BTZ's? No, and in fact the reverse was true. PAI's net asset value [NAV] fell by -2.10% over this time period, but BTZ's was even worse at -3.24%.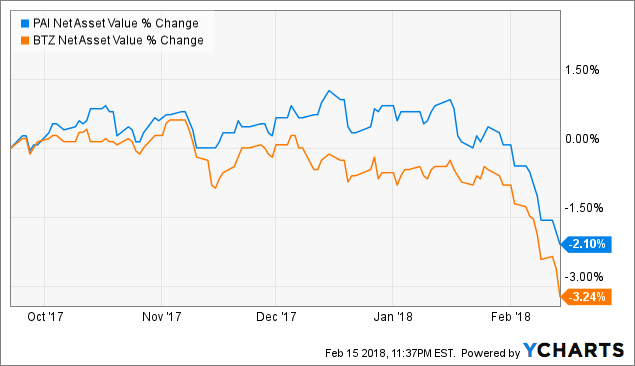 If BTZ's portfolio did worse than PAI's, why was its total return (much) better? My regular readers will have already guessed at the answer: premium/discount mean reversion! Over the last 4.5 months, PAI's premium of +10.16% has sank to a discount of -4.82%, while BTZ's discount of -9.04% has widened slightly, to -11.9%. Therefore, the majority of the outperformance of the long BTZ/short PAI pairs trade was due to the contraction of PAI's discount.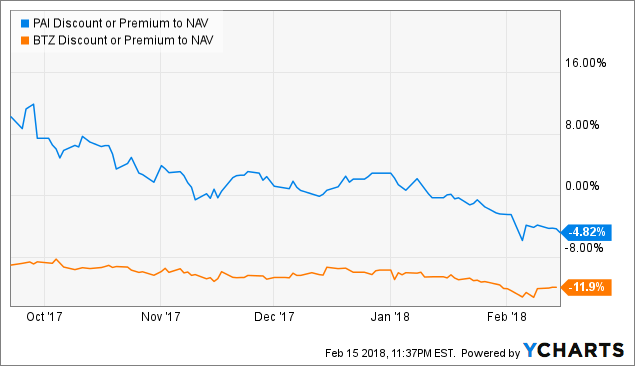 Summary
This article hopefully conveys our thought process in recommending a pairs trade to our members. Anyone who owned PAI and swapped to BTZ to would have profited to the tune of ~10% in only 4.5 months (~27% annualized), which is equivalent to about 2.5 years worth of distributions from PAI!
Note that I did not need to do a deep dive analysis of either PAI or BTZ to initiate this pairs trade. This was based almost entirely on premium/discount mean reversion, or as my fellow SA author Arbitrage Trader likes to say, "simple statistics".
Taking stock of the situation today, the long BTZ/short PAI trade has to be considered to be largely completed, as PAI is now trading with a discount of -4.82% and a 1-year z-score of -1.5, indicating that is now cheaper than its historical average. Although BTZ's z-score of -2.5 is even lower, as is its discount (-11.9%), the gap in valuation is no longer there.
Are there any current opportunities? The following table shows the 12 CEFs in the database that currently have z-scores greater or equal to +2.5. If you own ones of these funds, if might be a good idea to seek out another fund in the same category that is trading with a more attractive valuation, particularly if the fund that you own is also trading at a premium. Don't let mean reversion catch you out!
| | | | | |
| --- | --- | --- | --- | --- |
| Name | Ticker | Yield | Discount | z-score |
| MS Income Securities | (ICB) | 2.71% | -1.47% | 3.9 |
| BlackRock Science and Technolo | (BST) | 5.32% | 3.05% | 3.2 |
| Tortoise MLP Fund | (NTG) | 8.61% | 9.26% | 3.2 |
| ClearBridge Energy MLP | (CEM) | 8.85% | 5.53% | 3.1 |
| Gabelli Utility Trust | (GUT) | 8.50% | 44.95% | 3.1 |
| Templeton Emerging Mkts Income | (TEI) | 3.79% | -8.17% | 3.1 |
| Sprott Focus Trust | (FUND) | 4.97% | -8.86% | 3.0 |
| Nuveen S&P Dynamic Overwrite | (SPXX) | 5.58% | 9.54% | 2.9 |
| RiverNorth Opportunities Fund | (RIV) | 12.09% | 6.83% | 2.7 |
| Deutsche High Income Oppos | (DHG) | 5.42% | -0.60% | 2.6 |
| First Trust New Opps MLP & En | (FPL) | 10.52% | 6.67% | 2.5 |
| Western/Claymore Infl-Lnk Opps | (WIW) | 3.79% | -9.71% | 2.5 |
(Source: CEFConnect, Stanford Chemist)
Cambridge Income Laboratory: CEF and ETF Income and Arbitrage Strategies
If you have enjoyed my article, please click the "Follow" button next to my name to be alerted to my new free content! The Cambridge Income Laboratory is my Marketplace service on Seeking Alpha focused on income and arbitrage strategies for closed-end fund (CEF) and exchange-traded fund (ETF) portfolios. Members receive exclusive subscriber articles and an early look at public content with more actionable recommendations and ideas.

We're currently offering a limited time only free trial for the Cambridge Income Laboratory. Prices are going up on March 1, 2018, so please join us and lock in a lower rate for life by clicking on the following link: Cambridge Income Laboratory.
Disclosure: I/we have no positions in any stocks mentioned, and no plans to initiate any positions within the next 72 hours.
I wrote this article myself, and it expresses my own opinions. I am not receiving compensation for it (other than from Seeking Alpha). I have no business relationship with any company whose stock is mentioned in this article.
Additional disclosure: I am long the portfolio securities.
Washington, D.C., has issued a permit allowing Elon Musk's Boring Company to do preparatory and excavation work in what is now a parking lot north of the National Mall. The company says the site could become a Hyperloop station.
The permit, reported Friday by the Washington Post, was issued way back on November 29th of 2017. The permit is part of an exploratory push by the city's Department of Transportation, which according to a spokesperson is examining the feasibility of digging a Hyperloop network under the city. The Hyperloop is an as-yet theoretical proposal to use depressurized tubes and magnet-levitated pods to move passengers at very high speeds.
A Boring Company spokesperson told the Post that "a New York Avenue location, if constructed, could become a station" in an underground transportation network. The Boring Company last year showcased the possibility of moving cars underground on mag-lev sleds, though that concept wasn't quite a version of the Hyperloop proper.
The increasing prominence of Musk's own Boring Company in pushing for Hyperloop construction is a notable reversal of the entrepreneur's initial plans for the concept. When he unveiled a paper describing the idea in 2013, Musk said he wouldn't be directly involved with building it. That led several independent startups, including Hyperloop One and Hyperloop Transportation Technologies, to take up the cause.
Get Data Sheet, Fortune's technology newsletter.
But last summer, Musk started touting tentative Hyperloop partnerships between the Boring Company and governments in the Northeast U.S. A few weeks before the D.C. permit was issued, Maryland issued a permit for the Boring Company to build a 10.3-mile tunnel on a route between Baltimore and D.C.
Other Hyperloop projects have made headway in Europe and the American midwest, presenting the possibility of multiple regional Hyperloop systems operated by different companies.
The Hyperloop concept as a whole, though, has come under renewed scrutiny lately. It's unclear how such a huge project would be paid for — selling Boring Company flamethrowers is unlikely to cover the bill. More fundamentally, urban planners have argued that the Hyperloop, which would use small pods to carry a few riders at a time, can't scale sufficiently to really address urban transportation needs. Musk, in an unusual fit of pique, recently replied to one such criticism by calling its author an 'idiot.'
Is it just me or is the cyber landscape getting more scary? Even as companies and consumers get better at playing defense, a host of new cyber threats is at our doorsteps—and it's unclear if anyone can keep them out.
My doom-and-gloom stems from the dire predictions of Aviv Ovadya, the technologist who predicted the fake news epidemic, and now fears an "information apocalypse" as the trolls turbo-charge their efforts with AI. He points to the impending arrival of "laser phishing" in which bots will perfectly impersonate people we know by scraping publicly available images and social media data. The result could be the complete demolition of an already-crumbling distinction between fact and fiction.
Meanwhile, the phenomenon of crypto-jacking—in which hackers hijack your computer to mine digital currency—has quickly morphed from a novelty to a big league threat. Last week, for instance, hackers used browser plug-ins to install malignant mining tools on a wide range of court and government websites, which in turn caused site visitors to become part of the mining effort.
The use of browser plug-ins to launch such attacks is part of a familiar strategy by hackers—treating third parties (in this case the plug-ins) as the weakest link in the security chain, and exploiting them. Recall, for instance, how hackers didn't attack Target's computer systems directly, but instead wormed their way in through a third party payment provider. The browser-based attacks feel more troubling, though, because they take place right on our home computers.
All of this raises the question of how we're supposed to defend ourselves against this next generation of threats. One option is to cross our fingers that new technologies—perhaps Microsoft's blockchain-based ID systems—will help defeat phishing and secure our browsers. But it's also hard, in an age when our machines have run amok, to believe more machines are the answer.
For a different approach, I suggest putting down your screen for a day and picking up How to Fix the Future. It's a new book by Andrew Keen, a deep thinker on Silicon Valley culture, that proposes reconstructing our whole approach to the Internet by putting humans back at the center of our technology. Featuring a lot of smart observations by Betaworks founder John Borthwick, the book could help us fight off Ovadya's information apocalypse.
Have a great weekend.
Jeff John Roberts
@jeffjohnroberts
Welcome to the Cyber Saturday edition of Data Sheet, Fortune's daily tech newsletter. You may reach Robert Hackett via Twitter, Cryptocat, Jabber (see OTR fingerprint on my about.me), PGP encrypted email (see public key on my Keybase.io), Wickr, Signal, or however you (securely) prefer. Feedback welcome.
CARACAS (Reuters) – Widerven Villegas and his brother wash some 30 cars a day at a parking lot in Caracas. Despite charging less than 50 cents, nobody pays them in cash.
In tech hubs from San Francisco to Tokyo, payment is conveniently made through software on phones and watches on a routine basis. Amid a dire economic crisis in Venezuela a similar innovation is taking hold, though for very different reasons.
People from vegetable sellers to taxi drivers have registered to use mobile payment applications to attract customers who do not have enough paper money, which is in short supply due to soaring prices. The maximum daily amount Venezuelans can withdraw from cash machines is around 10,000 bolivars, around 4 cents at the black market exchange rate.
    Venezuela's hyperinflation, one of the first of the digital era, is producing surprise winners in a tough business climate: small technology companies based in the crisis-stricken country.
    "I accept transfers. I have Tpago, Vippo and almost all the applications out there!" said Villegas, 35, as he clutched a worn-out tablet and a basic cellphone.
   "We don't handle cash because our clients don't have it," he added. "With the applications I use, I've got their money before they've even left the parking lot."
Without these apps, even simple transactions like tipping a waiter or paying for parking become nightmares. Still, banking websites and mobile apps often crash, as the outdated telecoms infrastructure cannot cope with surging demand.
'MIRACLES'
Requests for a taxi on the Nekso application, somewhat similar to Uber, doubled last year, according to its head of strategy Leonardo Salazar, speaking at the company offices that boast a Playstation console and ping pong table.
Vippo, a Caracas-based payment app, saw a more than thirty-fold increase in the number of people registering last year. Citywallet, born as a pilot project for online parking payments at a private university, was extended to several shopping centers.
"The cash crisis is getting worse every day but is giving us the opportunity to capture more and more transactions with our solution," said Citywallet co-founder Atilana Pinon, 29.
She and two partners set up the app which is now expanding to Chile, after winning a scholarship from its government.
Creating an app in Venezuela usually requires little capital, given low salary expectations from coders and near-free electricity and data costs.
Developers were surprised by the rapid adoption of the applications and are betting on further growth in 2018.
"There are times when the point of sale machine stops working," said Maria Lozada, selling cleaning products at a market stall in the wealthier Caracas district of Chacao. "This is the way to solve the cash crisis," she says, pointing to a Vippo sign.
Venezuela's central bank inadvertently buttressed the boom by slowing cash production just as inflation was spiralling into quadruple digits.
At the end of 2017, the volume of banknotes increased by only 14 percent, less than half from a year earlier. That coincided with price rises of more than 2,500 percent, according to National Assembly figures.
Some 18 private Venezuelan banks last year launched an electronic payment app for consumers. MercadoLibre, one of the largest online commerce companies in Latin America, also offers a local payment solution.
Even leftist President Nicolas Maduro is getting in on the act, although critics blame him for the root problem.
"With the digital wallet we are going to perform miracles at all levels," Maduro said recently, announcing a QR code to be included on the government's social welfare identification card.
Despite some of the world's lowest internet speeds and a significant fraction of the population without bank accounts and cellphones, cash is falling out of favor in Venezuela.
"Perhaps our economy will be cash-less before Denmark," quipped Miguel Leon, an electronic engineer leading Vippo, in his open office featuring hammocks.
Writing by Girish Gupta; Editing by Alexandra Ulmer and Chizu Nomiyama
I run a small business. I'm also a writer who is married raising four kids of various ages ranging from baby and toddler to teenager and young adult. In it's most cartoon-like moments, I feel like I'm part of a three-ring circus with everything I'm trying to manage in work and life. Even in the less crazy times, it is still a daily work-life balance challenge.
For the last year, I've been trying to get a handle on all of this work-life balance stuff, which has put me on a search for the "holy grail" of sorts of work-life balance.
In that journey, I've done a lot of things that have helped a lot. I've learned how to create a realistic vision of what I really want my work-life balance to look like. I've learned how to define boundaries better, in particular as it pertains to my cell phone. I've even learned to prioritize better in both work and life and build in time for a daily regenerative activity.
I've also come to realize that some of the problems many of us have with trying to get work-life balance might be coming from a misconceived notion of what it is. That was certainly the case for me.
Here are the two biggest misconceptions I had about work-life balance that stood in my way until I changed my thinking about them.
1. Better work-life balance = more fun
I have to admit that I went into my search for work-life balance with a belief that it was just about trying to put more fun back into my life. Maybe I was just a hopelessly busy entrepreneur and dad who was looking for more vacations, more relaxing at the beach, more sleeping in, and more of all of that kind of stuff.
As I got more into trying to really figure out my work-life balance problem, I realized that whereas most of us that are entrepreneurs and parents certainly would like more of all of those fun and relaxing things, getting work-life balance wasn't just about that. I started to call this the "Carnival Cruise" version of work-life balance, and I found that many people I talked with about work-life balance had a similar version of it.
As I started to really get into the nuts and bolts of putting together my work-life plan – and allocating real hours and real time to real things on both sides of the work-life equation – I realized that getting true work-life balance might not mean doing all of the fun things but instead was about having the right amount of time to put into the most important things both at work and at home. 
Sometimes these things were not fun at all but were incredibly meaningful and important.
Once I got my work-life balance right, I thought about the fact that I now had the time to spend with our teenager during some crisis times. I now had the time to spend with our two-year old son as he worked through a speech challenge.
Neither of these things would fall into the category of beach relaxation or the world's best vacations, but I had created work-life balance to allow me to do those things. And that's what work-life balance might really be about.
2. Work-life balance does not always mean a 50:50 split between work and life activities
Maybe I was being a bit literal, but seemingly every visual depiction of work-life balance (including the one for this article) showed a scale with equal amounts of things on each side of the work-life see-saw.
This kind of made me feel like it had to be a 50:50 split in terms of how much went to each side. What I started to realize on my own journey was that very rarely is it ever 50:50. Maybe more importantly, it is perfectly fine if it isn't.
For me at this point in my life, my work-life balance scale is skewed to about 65:35 on the "life" side of the equation. If I looked at a scale, that could appear like imbalance and make me feel like I hadn't succeeded in getting balance. But in reality, it is perfectly balanced for my current wants and needs.
Until I came to terms with this, I kept feeling like I had to eliminate certain elements of the life side of my equation to get it to a perfect 50:50 balance.
If you are on the quest for your own holy grail of work-life balance, try thinking about these two misconceptions and applying different thinking about them to your own situation. I know that I got stuck halfway down the road until I figured them out myself.
We are officially mid-way through first quarter, 2018. How are you doing on the goals you set at the first of the year?
I can say with a reasonable amount of certainty that the average small business owner won't complete their goals list, not even by fourth quarter. Why? Because they're not addressing this goal-crushing problem: an environment that doesn't support their growth.
You can't possibly expect more of yourself if you don't change the environment that consistently prevents you from acting on your growth plans. Things like interruptions, client demands, employee issues, and spending time in the small details may come to mind. Sure, these problems will only continue to block your growth if you don't address them, but the real problem isn't around you, it's inside of you.
While the above examples may exist in your external environment, and they are a problem, it's also very important to consider your internal environment. What about self-doubt, fear of failure, and belief systems like there's never enough money. The truth is, money and time blocks are usually more significant in the mind than in reality. There is almost always a work-around for lack of funds and a tight schedule, but entrepreneurs fail to see it. As you address these bigger issues, solutions to the common problems will surface.
Ask this question first. 
As my clients form new goals I ask them this question: "Can you list ten things that may get in the way of achieving this goal?" Usually there aren't ten things, but it forces them to dig deep. Typically, it's not until number seven or eight that they reach the golden nugget: the real problem is within them, not outside of them.
Can you list ten things? Name a goal and ask yourself why you haven't moved the needle on it. Be honest with yourself. Look at the problems on the outside, as well as the inside. If you examine your deeper thoughts, you'll most likely become aware of the limiting beliefs that contribute to all of the other issues. Beliefs like, no one else can do these things for me, or, I have to be available to my customers and employees round the clock. Neither of which are true.
We unconsciously create excuses such as these because something deeper and more significant is in the way and we don't know it–or don't want to admit it. The bigger issue is usually rooted in fear. From fearing failure to lack of self-worth and not believing in one's self.  What are the odds of getting what you want if you continue to buy into your excuses, or worse–if deep down inside, you don't believe in yourself?  
This is not an easy exercise to do on your own, so you may wish to work with a coach or design a support system of peers with whom you have a foundation of trust.  As you unearth your blocks, don't get down on yourself. It's an exciting time because now you can address them, at last. Eliminating what I call the root cause of your problem will change everything.
But how?
Sometimes, the mere recognition of the problem will push an entrepreneur into action. However, most often it takes a fair amount of work to change and there's no shame in that. Consider how long the beliefs or fears you've listed have been in existence. Five years? A lifetime? How can you expect to change things overnight?
The first thing to abolish is any belief that you can do it alone. Asking for help does not make you weak, it makes you human–and very smart. The most brilliant entrepreneurs surround themselves with advisors, mentors, and coaches.
Name one big step toward changing your belief system that you can take today. A commitment to journaling every day, hiring a coach, or simply taking small steps in spite of your inner beliefs and fears. Base your most immediate goals on changing how you think, rather than business-focused results. Once you do this, there will be no stopping you from building your ideal business.
TEL AVIV (Reuters) – The British embassy in Israel said on Tuesday it has launched a program designed to help incorporate Israeli digital health technology into the UK and its National Health Service (NHS).
The UK Israel Dangoor Health initiative was put together by the UK Israel Tech Hub, a team based at the British Embassy that works to incorporate Israeli technology in British industry, with IBM's Alpha Zone accelerator program and DigitalHealth.London, which matches technology with NHS needs.
"With all this new computer power and greater understanding and the breakthrough in genetics, we are absolutely at the threshold of a healthcare revolution," said British businessman David Dangoor, sponsor of the initiative.
Financial details were not disclosed.
The two-year program takes place within IBM's accelerator, where each semester two to three digital health companies will be chosen by IBM and DigitalHealth.London to participate. In addition to tech support from IBM, they will receive mentorship and guidance on NHS operations and market penetration.
Reporting by Tova Cohen; Editing by Steven Scheer
SINGAPORE (Reuters) – Alibaba Group Holding Ltd's entertainment arm has signed a licensing agreement with Walt Disney Co in a deal that will provide the Chinese group's Youku video streaming platform with the largest Disney animation collection in China.
Alibaba said in a press release on Monday that the multi-year licensing agreement signed between Alibaba Digital Media and Entertainment Group and Disney subsidiary Buena Vista International Inc will see more than 1,000 Disney episodes released on Alibaba platforms which include set-top boxes.
The deal comes as Disney has faced obstacles in getting digital television content into China. In 2016, its DisneyLife online content venture, which it launched with Alibaba, was shut down by Chinese regulators less than five months after operations began. The reason for the shutdown was not made public.
"The addition of Disney content greatly enriches the library of quality international content on Alibaba's media and entertainment ecosystem, giving us a leading edge in foreign content distribution in China," said Yang Weidong, president of Youku at Alibaba Digital Media and Entertainment Group.
Alibaba did not disclose the value of the deal.
Youku reaches 580 million devices and gets about 1.2 billion views each day, according to Alibaba's news website Alizila. It said the platform already has similar licensing deals with Warner Bros., Paramount, Fox, NBCUniversal and Sony Pictures Television, among others.
SAN FRANCISCO (Reuters) – Amazon.com Inc (AMZN.O) paid about $90 million to acquire the maker of Blink home security cameras late last year, in a secret bet on the startup's energy-efficient chips, people familiar with the matter told Reuters.
The deal's rationale and price tag, previously unreported, underscore how Amazon aims to do more than sell another popular camera, as analysts had thought. The online retailer is exploring chips exclusive to Blink that could lower production costs and lengthen the battery life of other gadgets, starting with Amazon's Cloud Cam and potentially extending to its family of Echo speakers, one of the people said.
Amazon views its in-house devices as key to deepening its relationship with shoppers. The Cloud Cam and Echo currently need a plug-in power source to operate. Blink, which says its cameras can last two years on a single pair of AA lithium batteries, could change that.
Amazon declined to comment on the acquisition's terms or strategy.
The deal so far has drawn little attention. The camera maker announced its takeover by Amazon with scant details in a Dec. 21 blog post. Analysts have viewed Blink as part of the retailer's strategy for Amazon Key, a new program where shoppers can set up a smart lock and surveillance camera so delivery personnel can slip packages inside their homes when they are away. Amazon also sees opportunity in the security camera market as smart-home technology expands.
But Blink was not merely a camera business. Its little-known owner, Immedia Semiconductor, was started in Massachusetts by old hands from the chip industry. Chief Executive Peter Besen and two of his co-founders came from Sand Video, which had designed chips in the early 2000s that decoded a new and improved video standard.
In 2004 they sold Sand Video to Broadcom Ltd (AVGO.O) and remained there as executives, according to an Immedia website. The group left in 2008 to create Immedia, aiming to design chips for video conferencing, and later targeting laptop makers as potential customers.
Dan Grunberg, a co-founder who left Immedia in 2016, said that plan fell through. Laptop makers were unwilling to pay $1 per chip when cheaper options were on the market. So Immedia pivoted.
"If we make our own camera, we don't have to sell a hundred million" chips, he said. Grunberg declined to discuss Immedia's sale to Amazon.
The Blink security camera, which hit the market in 2016, did not require a power cable like many rival products, making it easier to place around users' properties. It was cheaper, too, starting at $99. Amazon's wired Cloud Cam launched at $119.99, while Netgear Inc's (NTGR.O) wire-free Arlo cost more still. Netgear said last week it plans to spin off its Arlo business.
"Battery life is a big issue in connected devices," said Scott Jacobson, a former Amazon devices manager and now managing director of Madrona Venture Group. "Always-on cameras that last for months and don't require a wired connection or an electrician to install could be game-changing."
As Blink's sales rose on Amazon's website, the retailer took notice, sources said, leading to talks with the camera maker about a deal.
Flybridge Capital Partners, Comcast Ventures, Baker Capital, Dot Capital and some suppliers were investors in the company.
Amazon's regulatory filings show it spent $78 million on acquisition activity in the quarter ended Dec. 31. Sources said the bid was competitive, and that compensation and incentives offered by Amazon pushed the deal's value to about $90 million.
Madrona's Jacobson, who had no knowledge of the acquisition's details, speculated that Amazon might apply the Blink team's expertise to cameras in drones or in its new checkout-free stores.
The chips could give Amazon other advantages, too.
The proprietary chip design will make it harder for rival retailers to copy Amazon's devices, said Matt Crowley, chief executive of Vesper, a sensor and semiconductor company that makes microphones.
And now that Amazon owns its own chips, it can go straight to the manufacturers, cutting out middlemen chip designers such as Ambarella Inc (AMBA.O), which has powered GoPro Inc (GPRO.O) products. Amazon has a division called Annapurna Labs that makes an unrelated kind of chip, and it was not clear which supplier it uses for chips that primarily process video.
"Vertical integration reduces cost," Crowley said. Digital video chips "are one of the more expensive components" in a camera.
Reporting By Jeffrey Dastin in San Francisco; Additional reporting by Stephen Nellis and Liana Baker; Editing by Marla Dickerson
In New England, people love their Dunkin' Donuts.
Heck, I was in a Dunkin' Donuts in Massachusetts once, and a guy showed me how you could actually see two other Dunkin' Donuts from the parking lot of the first Dunkin' Donuts.
But for all of Dunkin' Donuts regional ties, the company has its sights set on world domination. And as corporate leaders explained this week, they're using some surprising tricks–some of them so simple you'll wonder why nobody else is doing them–in order to get there.
A lot of this comes down to how fast Dunkin' Donuts can get a cup of coffee into your hands, so it can turn around put another cup of coffee in somebody else's hands. (Maybe an egg sandwich, too.)
The more quickly they move you through, the more customers they can serve, and the more money they make. Basic math. 
So, they've got a couple of short, simple words for you: "drive-thru," and "mobile app." 
It's all on display now at the company's new "next generation concept store" in Massachusetts. Pull up to the drive-thru there, and you've got a choice of two lanes.
There's the regular drive through, where cars line up, order, wait their turn, and pick up their coffee and food–pretty much like every other drive-thru lane in the world.
But, there's also an "exclusive On-the-Go drive-thru lane," as Dunkin' Donuts calls it in a press release, that lets you skip ahead of all the other customers, and go right to the front of the line. Think of it as first class for coffee.
What do you have to do in order to fly first class at Dunks? Join their "DD Perks" rewards program, and place your order via your phone on the Dunkin's Mobile App.
It's a pretty simple concept, and if you're from New England like me, it might even strike you as "wicked smart."
Dunkin' Donuts certainly isn't the first restaurant to try to push people to order via an app–but they claim to be the first national restaurant to combine it with the drive-thru.
In retrospect, it's almost obvious, given that industry wide, between 30 and 70 percent of customers reportedly use drive-thrus. (The wide range has a lot to do with individual restaurants' focuses, and the times of the day that customers visit.)
Now, it will probably tick some people off in the short term, at least the first few times they show up and realize that they have to wait longer than other customers because they're paying in cash or with a credit card.
A lot of them will convert, though, because if you grab a coffee on the way to work each day, and if using the "On-the-Go" lane saves you 90 seconds each time because you're not stuck behind somebody else putting in their order–that could add up to six hours a year.
There are some other smaller changes being tested in the new "next generation store," (which happens to be about a mile from the original Dunkin' Donuts location from 1950). Among them: a tap system for cold beverages, electronic order kiosks, and greater energy efficiency.
They also want to convince you that Dunks is a place to visit in the afternoon, and open hundreds more stores outside of the northeast. And they're getting rid of their foam cups.
But I'm going to put my money on the "mobile-preferred" drive-thru ordering experiment as the smartest, simplest innovation. 
There's some history, too: This is the company whose lineage includes the entire concept of franchising restaurants in the United States–years before McDonald's started doing it–and leveraged it to build Dunkin' Donuts into a national name.
Oh, right. The name. I almost forgot. They're dropping the "Donuts" part of it soon. They should just go with Dunks, since that's what everyone calls them in New England anyway, but apparently they want to change to just "Dunkin'."