It's not a plan really, not a hidden secret message. It's more of an expression of emotion. Maybe a realization of necessity.
In fact, while the text Amazon posted on its blog on February 14 runs 363 words, the most important part of this crucial passage is just four words long. But those four words speak volumes.
It starts with a dig at "state and local politicians" in New York, and a statement about how many New Yorkers supposedly supported the deal. Then, we get to the crucial part:
We are disappointed to have reached this conclusion–we love New York, its incomparable dynamism, people, and culture–and particularly the community of Long Island City, where we have gotten to know so many optimistic, forward-leaning community leaders, small business owners, and residents. 

There are currently over 5,000 Amazon employees in Brooklyn, Manhattan, and Staten Island, and we plan to continue growing these teams.
Those four crucial words? "We love New York."
They're not included by accident. In fact, I'll bet this statement probably went through more writing, editing and rewriting than anything in Amazon's history.
But the passage is crucial. It's a recognition that even in a post-HQ2 world Amazon, still depends big time on New York. That's why I think the company is at pains to reassure everyone that it isn't going to try to just reopen the HQ2 search and do this elsewhere.
The brutal truth is: New York City is special.
I know people don't like to admit this. I know that there are many trying to make political points, attacking union leaders and politicians who they say are to blame for Amazon running away.
But there is no other place truly like New York City, and Amazon isn't really going to run — not completely. It's not just chest-thumping; it comes down at least partly to sheer numbers. Here are three of them:
By far, New York is the largest city in America, with 8.6 million people–almost as big as the second, third, and fourth largest cities combined.
By far, it's the largest metropolitan area: more than 20 million people. If it were its own state, it would be about as big as Florida — but much more densely packed.
By far, it has the largest GDP of any metro area, at at $1.7 trillion. That's nearly 9 percent of the entire country.
Was it ever possible that Amazon would direct a personal insult at the largest and most important market in the country, by jilting it for say, Nashville? 
No offense to Nashville, the so-called runner-up. It's a really great city too, but numbers don't lie: it's tiny compared to New York.
Remember, they just proved it at Amazon, too.
After staging a 14-month beauty contest, playing off more than 200 cities against each other, and keeping the terms secret so that none of them could know what they needed to do in order to win, the result was almost comically predictable:
Amazing n couldn't do better than New York and an area right outside Washington, D.C. 
You know what I think's going to happen now? Amazon is going to redistribute those 25,000 jobs around a lot of different places. (Remember, it was only planning to create 700 jobs this year, and wouldn't hit the full number until 2028 at least.)
Now, New York will still get the largest share, only without having to give an average of $120,000 per job in tax breaks to get them.
And, it will make up the rest and still more–because Amazon just did the legwork for every other company in America.
Especially if the state and city can come up with anything even approaching a small percentage of the deal they were willing to give Amazon, and offer it to a wide array of smaller employers,  think things look pretty rosy.
No matter your size, and as long as you don't try to squeeze completely one-sided terms out of the deal, if you want to attract amazing workers and expand in one of the greatest cities in the world, Amazon just proved where you should go. 
Amazon loves New York. And a lot of other people do too. 
FILE PHOTO: German Finance Minister Olaf Scholz attends a media briefing during his visit to Beijing, China, January 17, 2019. REUTERS/Thomas Peter
BERLIN (Reuters) – German Finance Minister Olaf Scholz plans to extend tax incentives for electric company cars, he told a newspaper on Saturday, the government's latest attempt to boost demand for clean vehicles.
Germany is trying to increase electric car sales in the wake of a diesel emissions cheating scandal that has engulfed its auto industry in the last three years.
"Half of all cars sold in Germany are company cars," Scholz told the Frankfurter Allgemeine Sonntagszeitung.
"So I have decided that we will not end tax support for electric cars and plug-in hybrid company cars in 2021 but extend them maybe over the whole decade," he said, adding that would help improve air quality and meet climate goals.
He added, however, that the rules for plug-in hybrids would be tightened, so that only cars that can travel on electric power further than they do today would be eligible.
Since January, drivers of electric company cars which they also use for private journeys pay less tax than they would for a vehicle with a combustion engine.
Government subsidy schemes have helped boost sales but even with rising demand, electric cars made up only 1 percent of new car registrations last year, according to the KBA motor vehicle authority.
The government has acknowledged it will miss its target of having 1 million electric vehicles on the road by 2020 by two years.
Reporting by Madeline Chambers; Editing by Gareth Jones
The big dividend cut by CenturyLink (CTL) came as a surprise to some shareholders, but my previous research indicated that investors remain focused on free cash flows and EBITDA margins. Whether or not the company uses the cash flows to pay dividends or reduce debt shouldn't reflect on the stock as the value is in the ability to generate cash on a consistent and hopefully growing basis. Any stock weakness from cutting the dividend and maintaining cash flow targets provides a better entry point in the stock.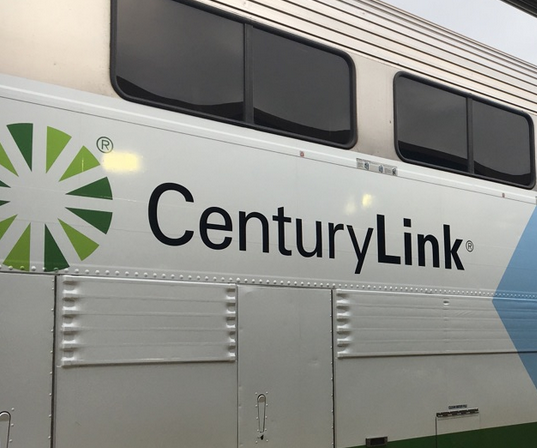 Image Source: CenturyLink website
Dividend Slashed
Only last week, Citibank argued that CenturyLink would slash the dividend. Analyst Michael Rollins slapped a $11 price target on the stock making a bearish case around more capital spending and a focus on revenue growth issues.
The negative analyst call was odd considering the telecom had beaten estimates since the new CEO took over to the point that the dividend wasn't really at question. Regardless, it appears that some investors evidently knew that a cut was on the way or were just wanting to push the stock down so far that the company would cut the dividend.
Along with the Q4'18 earnings report, the Board of Directors made the move to cut the dividend to $1.00, down from $2.16 per share. With the dividend up around 15% and so many analyst questions about the sustainability, a dividend cut wasn't a huge bombshell.
The likely shock to the investor community is that CenturyLink is having any financial problems that would require a dividend cut. According to CEO Jeff Storey on the Q4'18 earnings call, the move was made purely to de-lever the balance sheet quicker:
However as you saw, we announced today that we plan to reduce the annual dividend to $1 from the current $2.16 per share beginning with the next dividend declaration. This decision is not based upon any concern for the outlook of our business. Our business fundamentals are strong and we believe our free cash flow could sustain the dividend at the prior level through 2019 and beyond. As I said, this change in policy isn't about a diminished view of our business; it is driven by our view that the long-term interest of shareholders are best served by proactively accelerating, de-levering to a new lower target range of 2.75 to 3.25 times net debt-to-adjusted EBITDA.
Despite these facts, the stock is down over 40% in the last 6 months while the S&P 500 is only slightly down.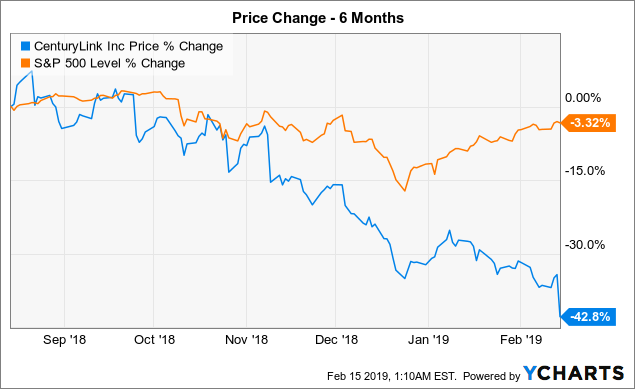 In fact, CEO Storey actually hinted at interest rate hike fears as the real reason for slashing the dividend payout to reduce leverage:
By reallocating more of our capital to leverage reduction, we believe, we will improve our cost of capital, return a significant amount of cash to shareholders at a very sustainable payout ratio, and provide additional flexibility to respond to market opportunities and any potential interest rate challenges that may occur. This is not something we did lightly but it is something we firmly believe is in the best long-term interest of our shareholders.
It sure sounds like the FED hiking interest rates in 2018 and the prospects of more hikes in the future caused CenturyLink to reconsider the acceptable leverage ratio.
About Those Cash Flows
A big key to understanding the story here is to look at the FCF progression in 2018. CenturyLink originally guided to FCFs of $3.15 to $3.35 billion for the year.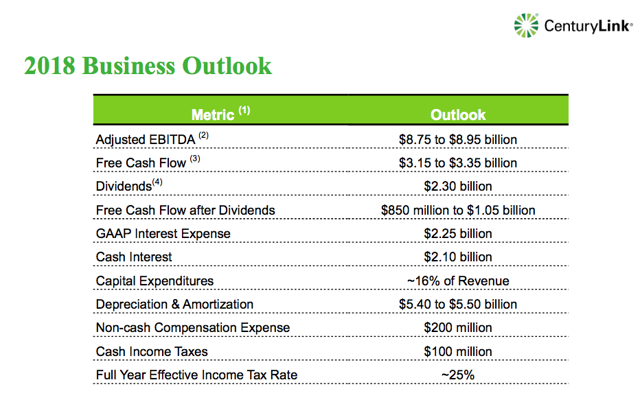 Source: CenturyLink Q4'17 presentation
The company ended up hitting an incredible $4.25 billion of FCF for the year. Due to a tax refund and other items that amounted to a $500 million bonus in 2018 that won't repeat this year, the company was clear that the improved cash flows weren't sustainable in 2019
Regardless, the guidance for 2019 has FCF at $3.10 to $3.40 billion. The most important detail is the capital expenditure guidance.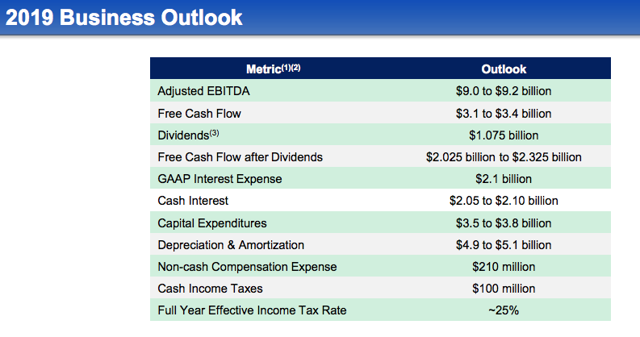 Source: CenturyLink Q4'18 presentation
A big key here is the capital expenditures of $3.50 to $3.80 billion or roughly 16% of revenues. The company has guided to a long-term target of ~16% of revenues, but CenturyLink didn't hit those targets in 2018 with capex of only $3.175 billion.
In essence, the 2019 plan includes an ~$500 million boost to capital expenditures in comparison to some of the under spending in 2018. Clearly, the company could further boost cash flows by constraining capex, but the best idea is for CenturyLink to reestablish a higher level of capital spending.
The end result is solid capex spending and a dividend payout of only $1.075 billion with a payout ratio in the 30% range on FCFs of $3.25 billion. In addition, the leverage ratio was already improved by $1.7 billion in debt repayments in 2018 due in part to the extra FCFs last year. The goal of reaching a leverage ratio of 2.75x in ~3 years is another positive sign for the stock.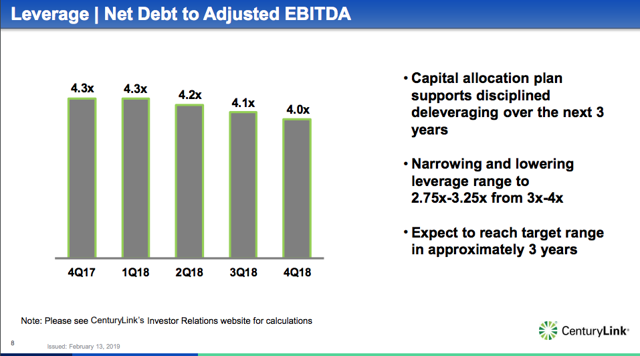 Source: CenturyLink Q4'18 presentation
Takeaway
The key investor takeaway is that all of the numbers indicate the dividend cut was indeed due to a focus on reducing leverage and improving the capital structure. No indication exists that the cut was due to financial problems out into the future, therefore, the stock is appealing down below $13 with a dividend yield that still sits over 7.5%.
Investors shouldn't make the mistake of heading to the bomb shelter like with typical dividend cuts.
Disclaimer: The information contained herein is for informational purposes only. Nothing in this article should be taken as a solicitation to purchase or sell securities. Before buying or selling any stock you should do your own research and reach your own conclusion or consult a financial advisor. Investing includes risks, including loss of principal.
Disclosure: I am/we are long CTL. I wrote this article myself, and it expresses my own opinions. I am not receiving compensation for it (other than from Seeking Alpha). I have no business relationship with any company whose stock is mentioned in this article.
SAN FRANCISCO/NEW YORK (Reuters) – Lyft Inc will pitch investors on its fast growth in the United States as it seeks to beat out Uber Technologies Inc to become the first publicly listed ride-hailing company, according to people familiar with the matter.
An illuminated sign appears in a Lyft ride-hailing car in Los Angeles, California, U.S. September 21, 2017. REUTERS/Chris Helgren
Lyft plans to tell investors its U.S. market share is approaching 40 percent, up from 35 percent in early 2018, the people said. The company has pushed aggressively into smaller and mid-sized cities. Lyft currently serves more than 600 American and Canadian cities, three times more than in early 2017.
San Francisco-based Lyft is under pressure to sell investors on its prospects as it races neck-and-neck with Uber to an initial public offering (IPO) that could come as early as the second quarter of 2019.
If Lyft gets to list first, it would avoid being judged by the valuation given to its larger rival.
Uber remains the undisputed king of ride-hailing in terms of size. Its revenue for the third quarter of 2018 was $2.95 billion, up 38 percent from the prior year. It operates in about 70 countries and also has businesses in freight hauling, autonomous driving, food delivery, air taxis and artificial intelligence research.
In contrast, Lyft is available only in the United States and Canada. And it has stayed tightly focused on its core ride-hailing service. Lyft has kept its financials secret.
It is estimated to be worth between $20 billion and $30 billion, compared to Uber's prospects for a valuation of up to $120 billion. So Lyft will be seeking to assure IPO investors it represents an attractive bet compared to its more established competitor, people familiar with its marketing strategy said.
Lyft has benefited from a spate of scandals that rocked Uber in 2017, including allegations of sexual harassment made by its female employees, the forced resignation of its chief executive officer and its use of illicit software to deceive regulators. A #DeleteUber campaign surged on social media. The negative publicity helped Lyft attract new drivers and riders without spending much on marketing.
Given that both Uber and Lyft are still losing money, investors will be focused on their growth and potential for future profitability. Lyft has prepared some earnings metrics it hopes will persuade investors that it will not be in the red for long, the people familiar with its strategy said.
These include its overall growth in ride bookings, the total number of rides per passenger, the commissions it earns from drivers, and the percentage of rides across its different ride types, particularly its growing carpooling service, the people said.
Lyft declined to comment.
"The IPO market will be focused on growth," said Jim Williams, chief investment officer of Creative Planning Inc, a wealth and investment manager in Overland Park, Kansas. His firm advises clients who already own shares in Lyft and Uber as well as those considering buying stock in the companies.
Investors will be assessing the companies based on the number of new riders and total rides, Williams said.
They will want to know, "Are these companies expanding?" he said.
(For a graphic on global growth projections for ride sharing, see: tmsnrt.rs/2V51lqr)
UBER TOUTS DIVERSIFICATION
Uber reported sharply slower global bookings growth in the third quarter of 2018; that figure slid to 6 percent over the previous quarter in a business that had routinely been expanding by double-digit percentages.
People familiar with management's thinking say Uber executives are concerned that if investors judge the company by the same yardstick as Lyft — focusing on the number of rides it sells as opposed to its other initiatives — its valuation could suffer in an IPO.
Uber plans to portray itself to IPO investors as a global logistics and mobility platform, and will spend less time on metrics specific to its core ride-hailing business, the people said.
Uber declined to comment.
Over the last year, Uber CEO Dara Khosrowshahi has sought to direct investor attention to food-delivery business Uber Eats, whose revenue grew 150 percent in the third quarter over the previous year.
Uber and Lyft continue to diverge, offering different financial opportunities to IPO buyers, according to Anna-Marie Wascher, CEO and founding partner at Flat World Partners, an investment management firm that made an early Lyft investment.
"With Uber, you will invest in Uber Eats and global expansion," Wascher said. "Lyft will get investors betting on the U.S. ride-hailing market."
Reporting by Joshua Franklin in New York and Heather Somerville in San Francisco; Additional reporting by Carl O'Donnell and Jessica DiNapoli in New York; Editing by Greg Roumeliotis and Marla Dickerson
JAKARTA (Reuters) – Indonesian cryptocurrency traders are complaining that the government's new rules on futures trading, which require high minimum capital for traders, will hinder development of the young but growing market.
Use of cryptocurrencies as payment instrument is banned by Indonesia's central bank, but trade in the blockchain-backed assets is allowed.
Since October, Jakarta has allowed futures trading of cryptocurrencies as a way to provide hedging tools to protect customers from fluctuations in prices of cryptocurrencies. But there have been no futures transactions for any digital asset so far, according to traders.
To encourage trade and protect customers, the Commodity Futures Trading Regulatory Agency, know as Bappebti, last week issued a regulation that set a 1 trillion rupiah ($71.17 million) as the minimum paid-up capital for a new trader offering future contracts for crypto assets.
Oscar Darmawan, chief executive of major digital asset trader Indodax, said the "very large" minimum capital level is more than the requirement for opening a rural bank and much higher than the 2.5 billion rupiah minimum paid-up capital for a futures broker of other commodities.
Regulation is needed to support a sector, help the economy and protect people "but it should not kill an industry," Darmawan said.
Teguh Kurniawan Harmanda, chief operating officer of trading firm Tokocrypto, said the capital requirement was a surprise as it did not come up in industry consultations held by Bappebti prior to the release of the regulation.
Bappebti officials did not respond immediately to request from Reuters for comment.
The new rules also require traders to have a client support division, employ at lease one certified security practitioner, keep transaction data for at least five years, and have a server inside the country.
There is no data on the size of Indonesia's cryptocurrency market, but people in the industry believe the number of investors has nearly matched that of the country's main stock market.
Reporting by Tabita Diela; Writing by Gayatri Suroyo; Editing by Richard Borsuk
ALPHARETTA, Ga. (Reuters) – Jeff Leonard slides behind the wheel of his burgundy Hyundai Accord and heads to a nearby Walmart Inc store, where he picks up the package of groceries waiting for him.
Jeff Leonard, a DoorDash driver, waits to pickup an order at a Walmart online grocery pickup parking lot in Cumming, Georgia, U.S., November 5, 2018. REUTERS/Nandita Bose
Roughly an hour later, the 62-year-old delivers vegetables, flavored water and cleaning supplies to a shopper's front door. It is one of nearly 100 such Walmart deliveries for Leonard since July, when he first signed up to courier for the world's largest retailer.
But he does not wear a uniform or collect a traditional paycheck. He is not on Walmart's staff.
Leonard is one of hundreds of local independent drivers for DoorDash, the San Francisco-based online delivery service that Walmart uses to handle same-day delivery of groceries to shoppers' homes outside of Atlanta.
Leonard and his cohort of some 16.5 million American "gig" workers – people who currently work in contingent jobs or as on call workers – come at a lower cost for Walmart than full-time employees, according to interviews with drivers, delivery companies and Walmart documents reviewed by Reuters. But they lack loyalty when there are better paying deliveries out there, adding risk to Walmart's latest attempt to win more online grocery customers.
"This affords me the ability to make my own hours," said Leonard, who pays for his own fuel, car insurance and gets no health insurance, retirement plan or other employee benefits. He and other gig drivers in the area collect $7 to $10 per Walmart delivery. Walmart has deemed $11 an hour as minimum wage for its own employees.
The world's largest retailer began bolstering its partnerships with third-party courier firms to reach consumers in 100 U.S. cities last year to better compete with Amazon.com Inc. The move came as it ended initiatives to use Uber and Lyft drivers, and struggled with using Walmart's own employees, to deliver packages.
Walmart told Reuters it benefits from the speed as well as the driver contacts of its seven partner firms, such as DoorDash. The move allows same-day grocery delivery to 40 percent of households across the United States, without the burden of hiring employees. The retailer is able to keep costs down by negotiating pre-determined delivery rates with the firms, namely by breaking down delivery costs by zones in cities, according to three sources with direct knowledge of the situation, who spoke to Reuters on condition of anonymity. 
The amount that drivers are paid is determined largely by the distance from a store to the shopper's home or location. For example, for all deliveries within 5 miles of the pick-up point, the retailer agrees to pay a certain amount. It works similarly for distances of 10 or 15 miles from the store as the pick-up point.
"That (payment) gets defined ahead of time and that is fixed," said a source, referring to the company's agreement with Walmart. The retailer, the source said, then charges the customer a delivery fee.
The strategy helps Walmart avoid paying surge pricing – higher fares when demand for delivery drivers spikes due to rush hour, bad weather or popular meal times – that can dramatically drive up delivery costs.
Walmart spokeswoman Molly Blakeman said speed is a big factor in Walmart's reliance on the delivery companies, who have existing contracts with drivers and technology to dispatch them on demand. "To develop that on our own in each market would take us much longer to roll out," she said.
Walmart's partnership approach to grocery delivery is in contrast to Amazon Flex, which taps freelance drivers directly as needed, and pays them $18 or more per hour. Amazon is also launching its own branded delivery service for Amazon packages, providing couriers with access to leased Mercedes delivery vans and discounted insurance. Amazon did not respond to request for comment.
By working with partners who hire out drivers "on demand" as contractors who can then also earn money from other outlets, Walmart is also able to lower liability risk from labor-related driver lawsuits, which are growing in number around the United States.
Walmart's Blakeman said the drivers are paid by the delivery, not by the hour, and the all-in average delivery time is 35 minutes. The delivery companies then make decisions about payments to drivers and how they are distributed, she said.
In Georgia and Ohio where these drivers deliver for Walmart as well as local restaurants, Reuters found nearly two dozen drivers take in compensation of less than $11 an hour when they made deliveries for Walmart. And some took in less than the federal minimum wage of $7.25 an hour. All but one of the 22 deliveries, Reuters tracked, took over an hour to finish.
In a statement, DoorDash Chief Operating Officer Christopher Payne said a majority of drivers earn over $11 an hour while completing Walmart deliveries and a significant portion of the drivers earn over $15 an hour. Reuters was not independently able to verify the higher end of the hourly pay scale.
Walmart partner Deliv paid drivers by the hour, sources said. Reuters reported earlier this week that Deliv, one of Walmart's partners in Miami and San Jose, ended the relationship altogether.
LACKING LOYALTY
The risk to Walmart's new strategy is driver loyalty. None of the drivers in Georgia and Ohio Reuters interviewed said they would commit to handling Walmart deliveries over more lucrative gigs from local restaurants, especially during busy hours.
Garrick Clark, a 44-year-old driver making deliveries for Walmart in Alpharetta, said he would prefer dropping packages for Amazon over delivering groceries for Walmart because Amazon pays $18 to $24 an hour for similar deliveries.
A source with direct knowledge of why the relationship between Walmart and Deliv ended, said delivering large orders over long distances was a hurdle to the tie-up. Walmart charges $7.99 to $9.99 delivery fee on a minimum order size of $30 for online grocery orders, and customers willing to pay for same-day delivery often do not live close to a Walmart store, the person said.
Further, many Walmart's stores are in low-income neighborhoods which generated fewer online grocery orders for Deliv's same-day delivery, two sources said.
"To get drivers to agree to $7 or so to drive 15 miles to deliver 40 items was a big problem. Most drivers were like, 'We don't want to do Walmart anymore,'" one of the sources said. According to Spend Management Experts, Walmart would have to spend at least $141.76 per employee, per day if it hired them to make deliveries for 8 hours at $11 an hour in Atlanta. The cost analysis, which the firm performed on behalf of Reuters in December, includes what Walmart would pay for fuel, car insurance and car maintenance. But it excludes the cost of employee benefits.
Leonard, the driver here in Alpharetta, said getting a guaranteed minimum wage from delivery companies for the hours he logs would be a big help.
"But they don't, and that's the nature of the beast," Leonard said.
Reporting by Nandita Bose in Alpharetta, Georgia; Additional reporting by Jonathan Stempel in New York and Lisa Baertlein in Los Angeles; Editing by Vanessa O'Connell and Edward Tobin
(Reuters) – Japanese map platform developer Dynamic Map Platform announced on Wednesday it plans to acquire Detroit-based map startup Ushr for up to $200 million in a bid to widen its geographical footprint in the burgeoning self driving cars market.
Dynamic Map Platform counts Japan's Toyota Motor, Nissan and Honda among its investors, while Ushr provides 3D mapping data to General Motors.
The move comes as the Japanese car makers seek to challenge Alphabet Inc's Google and Chinese rivals in the mapping business.
For the acquisition, Dynamic Map Platform said it would raise a combined 22 billion yen ($198.9 million) from investors including two existing shareholders – the Japanese state-backed INCJ fund and Mitsubishi Electric.
"Through the combination, we will be able to offer automotive OEMs a comprehensive high-definition mapping solution for the North American and Japanese markets, with the ability to expand globally in the future," Tsutomu Nakajima, the head of Dynamic Map Platform, said in a statement.
Reporting by Rashmi Ashok in Bengaluru and Makiko Yamazaki in Tokyo; Editing by Stephen Coates and Muralikumar Anantharaman
I have too much respect for Elon Musk to think that he really believes that, because there's not the slightest sign that we are anywhere close to that level of automated driving. Therefore I must very reluctantly conclude that he's intentionally misleading the public.
I'll speculate on his reasons for surfacing this whopper at the end of this column. Meanwhile, Musk isn't the only one who's overplaying his hand on full automation. It's endemic to the automobile industry, most of which has adopted this "sliding scale" model of how automation will come about:
0. No automation. Driver does everything.

1. Driver assistance. Standard cruise control.

2. Partial automation. Cruise control with lane changing, ability to parallel park and other easily defined, predictable driving behaviors.

3. Conditional automation. Self-driving; system hands control to human when needed.

4. High automation. Self-driving; system hands control to human when needed but overrides dumb human decisions.

5. Full automation. You can bunk out in the back seat when you leave, and wake up when you arrive.
Described in this way, full automation seems like merely an extension of technologies that are already working. We're now at stage 2 and moving to stage 3, it follows that eventually we'll make the human driver redundant.
However, when you get outside the bubble of AI hucksters and talk to experts in automation and transportation, a different story emerges. A recent ThinkProgress article provides some excellent examples:
"Taking me from Cambridge to Logan Airport with no driver in any Boston weather or traffic condition — that might not be in my lifetime." — John Leonard, VP for automated driving research at the Toyota Research Institute.

"Recent Uber and Tesla autonomous vehicle deaths show general use of real self-driving is a decade away. The tech still needs orders of magnitude improvement." — Michael Liebreich, the former chair of Bloomberg New Energy Finance (BNEF)
"Despite several decades of automation in aviation, airliners will have human pilots for the foreseeable future. Streets and highways are much more variable and unpredictable than airways, and predictions that the streets will be filled with large numbers of autonomous vehicles within a few years are ignoring not only the lessons of automation history, but also the numerous additional challenges that will be faced on the ground." — Christopher Hart, former chair of the National Transportation Safety Board (NTSB)
That last quote is the big buzz-kill because proponents of self-driving cars frequently and loudly cite the example of auto-piloted airplanes as evidence that driverless cars are  practical.
In fact, as Hart points out, the current state of avionics automation argues the opposite–that a human pilot is still necessary even when traveling mostly involves traversing a vast empty space.
Rather than a sliding scale of incremental improvement, car automation is better represented by a chasm that's yet to bridged, like so:
0. No automation. Driver does everything.

1. Driver assistance. Standard cruise control.

2. Partial automation. Cruise control with lane changing, ability to parallel park and other easily defined, predictable driving behaviors.
3. Automation. Self-driving; system hands control to human when needed.

4. High automation. Self-driving; system hands control to human when needed but overrides a dumb human decision.

5. Full automation. You can bunk out in the back seat when you leave and wake up when you arrive.
The myth that driverless cars are just around the corner would just be annoying hype were it not for the fact that the hype is influencing public policy and infrastructure investment. 
Similarly, truck drivers and teamsters are now being told that they'll soon be replaced by driverless vehicles. Believing this, they're likely to focus on simply keeping their own jobs rather than working to change the real danger, which is the erosion and elimination of compensation and benefits by an unregulated, non-union gig economy.
Which lead me to why I think Elon Musk is making a prediction that he probably knows to be untrue. Simply put, he's trying to convince people to buy more Teslas so that they can be on the cutting edge of a driving revolution that will never take place.
And that's dumb because eventually people will notice that driverless cars aren't happening. Even worse, this driverless car nonsense is distracting consumers from the real reason to buy an electronic car, which is that the internal combustion engine is helping make the planet uninhabitable.
As I see it, Musk's vision for the future has a lot going for it. A car that runs on stored solar power would be a huge boon to humankind. Musk doesn't need to spout fictions about full automation that's just not going to happen.
BANGKOK (Reuters) – Thailand on Friday launched a Huawei Technologies 5G test bed, even as the United States urges its allies to bar the Chinese telecoms giant from building next-generation mobile networks.
FILE PHOTO: A Huawei 5G device is pictured outside an exhibition in Bangkok, Thailand, January 30, 2019. REUTERS/Athit Perawongmetha
Huawei, the world's top producer of telecoms equipment and second-biggest maker of smartphones, has been facing mounting international scrutiny amid fears China could use its equipment for espionage, a concern the company says is unfounded.
The 5G test bed in Thailand, the United States' oldest ally in Asia, will be Huawei's first in Southeast Asia.
Thailand's cooperation with Huawei on the test bed does not mean it is not concerned about security issues, Minister of Digital Economy Pichet Durongkaveroj told Reuters at the launch.
"We keep a close watch on the allegations worldwide. However, this 5G test bed project is a testing period for the country," Pichet added. "We can make observations which will be useful to either confirm or disconfirm the allegations."
Pichet was speaking at the test site in Chonburi, the heart of the Thai military government's $45 billion economic project – the Eastern Economic Corridor (EEC)- about 90 km southeast of Bangkok. Vendors like Nokia, Ericsson and Thai telecoms operators have also set up 5G labs at the site.
Huawei, which gets nearly half of its revenue from outside China, says it has secured more than 30 commercial 5G contracts globally. But it has not yet signed a 5G contract in Thailand.
Huawei is in talks with telecoms operators, such as Advanced Info Service Pcl and TRUE, to secure local partnerships ahead of a national rollout scheduled for December 2020, industry sources with knowledge of the matter said.
Asked if the United States had reached out to Thailand about barring Huawei, Pichet said: "I have no knowledge of that".
U.S. embassy spokesperson in Bangkok said the United States "advocates for secure telecoms networks and supply chains that are free from suppliers subject to foreign government control or undue influence that poses risks of unauthorized access and malicious cyber activity".
"We routinely urge allies and partners to consider such risks and exercise similar vigilance in ensuring the security of their own telecoms networks and supply chains, including when awarding contracts," the spokesperson added.
Huawei representatives at the test bed site declined to comment as they were not authorized to speak to media.
Ties between the United States and Thailand have cooled since the Thai military took power in a 2014 coup. Relations between Bangkok and Beijing, on the other hand have, warmed in recent years as evident from a pick up in defense trade and Chinese investment in the Southeast Asia nation.
BUSINESS AS USUAL
Huawei has previously set up a cloud data center worth $22.5 million in Thailand's EEC, a centerpiece of the government's policy to boost growth in the country that has struggled to attract foreign investors besides the Chinese.
Alibaba, Tencent, Kingsoft and JD.com have also pledged to invest in the EEC.
This stands in stark contrast to the intense scrutiny being faced by Chinese investment in other parts of the world amid a crippling Sino-U.S. trade war.
Reuters reported exclusively on Jan. 30 that the European Commission was considering proposals that would ban Huawei from 5G networks, but that work was at an early stage.
Slideshow

(2 Images)
For Thailand, security concerns over Huawei's equipment come second to its competitive pricing versus that by U.S. firms, said Pranontha Titavunno, Chairman of the Information Technology Industry Club of the Federation of Thai Industries.
"We don't think about it because their products are decent and affordable," Pranontha told Reuters.
"There are always surveillance concerns when it comes to China … But Thailand doesn't really have anything exciting that might be of interest to Beijing."
Reporting by Patpicha Tanakasempipat; Editing by Jonathan Weber and Himani Sarkar
Over the next three years, companies will give consumers more control over their data, privacy, and how they interact with products and services, according to a new report.
"Companies are amassing tremendous amounts of information about consumers," said Paul Daugherty, Accenture's chief technology and innovation officer. "The key thing for companies to think about is just because you can do something doesn't mean you should do something."
The insight comes from Accenture's Technology Vision 2019 report released on Thursday. The annual report predicts key technology trends that will redefine business over the next three years.
Successful brands will have to build trusted relationships with consumers, the report says, and that includes providing transparency and giving consumers control of their data. If consumers trust a brand, they're more likely to offer up even more data in exchange for a better experience—thus continuing the cycle of improving the product or service and growing the business.
Given recent privacy and data breach blunders from big technology companies like Google and Facebook, industries facing less heat over privacy may have a leg up in developing these deeper relationships. For example, insurance or financial services companies could ask their customers for permission to track more things about them, like the number of steps they take daily or their spending habits, to provide more customized offerings.
"This next generation [of innovation] is not going to be led by just technology companies," said Michael Biltz, managing director of Accenture's report. "It's going to be led by all of these companies that have transformed themselves into digital businesses."
While in recent years, technology companies have led the way in developing more personalized services, they have served as the "canaries in the coal mines," said Daugherty. Through their mistakes, tech companies have shown other industries what not to do when it comes to handling consumer data. As a result, they left room for old-line industries to leverage their better relationship with consumers to introduce data-dependent products. Tech companies may have a harder time convincing their users to give up their personal information for similar services.
And though Accenture supports federal data privacy regulation, future innovation likely will be dependent on self-regulation, as laws struggle to keep up with advances in technology.
Here are all five trends outlined in the report:
The power of DARQ: Companies must understand and take advantage of distributed ledgers like blockchain, artificial intelligence, extended reality (a catchphrase for virtual and augmented reality), and quantum computing (a nascent technology that promises faster data crunching).
Get to know me: Understand more about consumers using the data trail they leave online to better develop personalized experiences as a way to unlock new business opportunities.
Human + worker: Companies of all kinds should redefine employee roles to take into account new technologies like artificial intelligence.
Security first: Businesses will have to recognize they are the conduit for data breaches rather than victims. They'll have to be diligent about not just protecting of their internal and customer data, but also that of their partners and vendors.
Meet consumers now: Capitalizing on "momentary markets," or markets that spring up and then vanish, will be critical. Successful companies will have to move quickly and take advantage of the on-demand economy and growing expectations by consumers for customization.