(Reuters) – Verizon Communications Inc (VZ.N) on Tuesday beat Wall Street estimates for net new phone subscribers who pay a monthly bill, helped by promotional offers for Apple Inc's (AAPL.O) new iPhones.
The Verizon logo is seen on the side of a truck in New York City, U.S., October 13, 2016. REUTERS/Brendan McDermid
Apple launched the iPhone XS, XS Max and XR in September, triggering heavy promotional activity in the telecoms industry. Under Verizon's iPhone offer, a user can buy an iPhone and get up to $750 off on X and XR models.
The largest U.S. wireless carrier by subscribers faces competition from companies such as T-Mobile US Inc (TMUS.O) and Sprint Corp (S.N), who offer discounts on call and data plans.
Verizon launched 5G home internet in four cities earlier this month, claiming status as the first to bring a commercial 5G product in the United States amid heated competition between major carriers.
Verizon said it added a net 295,000 phone subscribers during the third quarter, beating estimates of 161,000 new subscribers, according to research firm FactSet. [nGNXb3bkfn]
Net income attributable to the company rose to $4.92 billion, or $1.19 per share, in the third quarter ended Sept. 30, from $3.62 billion, or 89 cents per share, a year earlier.
On an adjusted basis, Verizon earned $1.22 per share, beating analysts' estimates of $1.19 per share, according to Refinitiv data.
Verizon said it lost 63,000 Fios video subscribers during the quarter, more than the 18,000 it lost last year, as viewers continue to favor cheaper TV services delivered over the internet, over paying for pricier cable packages.
It added 54,000 Fios internet customers, compared to 66,000 added a year earlier.
Total operating revenue rose 2.8 percent to $32.61 billion during the quarter, beating analysts' estimates of $32.51 billion, according to Refinitiv data.
Reporting by Akanksha Rana in Bengaluru and Sheila Dang in New York; Editing by Supriya Kurane
You know what's a great business? One where the margins are totally in your favor and your customers don't math.
For example, the lottery.
With no big winners over the weekend, expect to see a lot over the next few days about Mega Millions and Powerball, since their combined jackpots will exceed $2 billion in the next drawings on Tuesday and Wednesday.
If it seems like prizes are bigger now than they were a few years ago, it's true, and it's because both lotteries decided to trade longer odds for higher prizes. It looks like it's paying off. Because the miniscule odds of winning are even more miniscule, but the number of tickets sold went up.
Somebody will likely win this week. Maybe more than one person. There's a 99.9999997%  chance it won't be you, but those odds won't stop millions of people from buying tickets.
Nice business. Here's what else I'm reading today:
A free way to avoid people driving while intoxicated
Self-driving car company Drive.ai has an interesting way to gather data and get some good publicity. They're offering free rides in self-driving vehicles to and from Dallas landmarks, but the headline-grabber is a plan to give free rides after Dallas Cowboys games for fans who might have had a few too many beers. (Peter Holley, The Washington Post)
Is the Tesla Model 3 too expensive?
As if Elon Musk doesn't have enough problems, Tesla announced a new, slightly cheaper version of the Model 3 last week. The problem: it's still going to come in at $45,000, which is about $10,000 more than Musk originally promised. The obvious question: Did he promise too much? (Jeremy C. Owens, Marketwatch)
"When you fail, I don't have time to coddle you"
That's what author Brené Brown said she advises bosses to tell their employees. It's about setting the expectation that you understand they'll fail sometimes, and it's not that big a deal. She spoke at the Inc. 5000 conference in San Antonio. (Kevin J. Ryan, Inc.com)
Extremely inspiring
A 6-year-old girl who was diagnosed with acute lymphoblastic leukemia came up  with a more comfortable dress for kids who have to undergo chemotherapy. Now she and her mother, working with volunteers, have made hundreds of the dresses to give to young cancer patients.  (Cathy Janek, The Beacon-News)
What could possibly go wrong?
Of all the things the world needs, clearly the RMS Titanic II, a 21st Century replica the original Titanic, is at the top of the list. The $500 million ship, originally announced six years ago but delayed for myriad reasons, will now apparently be ready in time to make its maiden voyage in 2022. (AnneMarie McCarthy, Lonely Planet)
In response to mounting criticism from consumers, citizens, and lawmakers, Facebook is pursuing a public relations blitz. The media giant wants to change people's perceptions about how it is handling the scourge of misinformation and concomitant threat to elections presented by its websites and apps.
Enter the "war room." Facebook invited journalists from a number of publications—Fortune included—to visit a cramped conference room on the company's Menlo Park campus inside which a squad of 20-or-so employees is tasked with valiantly defending democracy around the globe—from the U.S., to Brazil, and beyond. The walls and desks are cluttered with video screens and computer monitors. Around them, Facebook's freedom fighters huddle, clattering away on their keyboards, stemming a tide of malicious, politically-motivated influence campaigns.
One moment in Fortune reporter Jonathan Vanian's account of the war room made me grin widely. A Facebook executive, Samidh Chakrabarti, director of elections and civic engagement for the company, tells Vanian that having everyone in the same room allows for "face-to-face" communication and quick decision-making. A few paragraphs later, we learn why Facebook does not plan to invite collaborators from other misinformation-besieged Silicon Valley companies, like Twitter and Reddit, to take seats in the room. It is easier for these groups to collaborate "virtually" rather than physically, says Nathaniel Gleicher, Facebook's head of cybersecurity policy. Hmm…
Facebook's war room seems, to this columnist, like a PR stunt. It is reminiscent of the cybersecurity fusion centers that banks and other companies set up to dazzle visitors. Such displays are "mostly for show," as Jason Witty, chief information security officer at U.S. Bank, told the New York Times for an unrelated story about such flashy workspaces. They, you know, look cool.
I do not mean to denigrate Facebook's efforts entirely. To be fair, the company is trying to address the many problems that plague its platforms. And the war room does serve an important purpose: making the company's behind-the-scenes battles more tangible for its own employees, for regulators, and for the public. Hopefully it does help quench disinformation.
Still, the tidy image of the war room comes across as a bit of marketing misdirection. After all, the walls of this room extend far, far beyond Menlo Park. Ask any journalist. As the Times' editorial board notes in a recent op-ed, Facebook effectively relies on news reporters as an army of unofficial, unpaid, outsourced content moderators, helping to root out spammers, trolls, and propagandists. Companies like Facebook "have all the tools at their disposal and a profound responsibility to find exactly what journalists find—and yet, clearly, they don't," the Times writes.
Indeed, the real war room has no walls.
***
Last week I warned readers about the many ways Bloomberg Businessweek's recent report about Chinese spy chips smells foul. Just yesterday Apple CEO Tim Cook took the unprecedented move of personally calling for Bloomberg to retract the story. So far Bloomberg has not backed down. We'll continue to track this story and its fallout.
Have a great weekend.
Robert Hackett
@rhhackett
Welcome to the Cyber Saturday edition of Data Sheet, Fortune's daily tech newsletter. Fortune reporter Robert Hackett here. You may reach Robert Hackett via Twitter, Cryptocat, Jabber (see OTR fingerprint on my about.me), PGP encrypted email (see public key on my Keybase.io), Wickr, Signal, or however you (securely) prefer. Feedback welcome.
Absurdly Driven looks at the world of business with a skeptical eye and a firmly rooted tongue in cheek. 
The headlines were menacing. 
They seemed to tell of a dirty little secret, one that many fast food joints had shared.
22 out of 25 had been deemed unacceptable. They got an F-grade.
Only Shake Shack, BurgerFi and Wendy's passed. (And Wendy's only just.)
The rest, said the collaborative Chain Reaction report — from the Center for Food Safety, Consumer Reports, Food Animal Concerns Trust, U.S. PIRG Education Fund, Friends of the Earth, and Natural Resources Defense Council — were a disgrace.
What was their sin? Serving beef raised with the routine use of antibiotics.
Surely, you might think, antibiotics are good for you. At least, if you have a sinus infection. 
But no. As the Center for Food Safety told me:
Public health experts warn that the widespread use of antibiotics for meat production is rendering these medications less effective by contributing to the creation and spread of drug-resistant bacteria, sometimes known as superbugs.
No one wants a superbug, save for the few people on reality shows who appear to enjoy eating them.
Still, McDonald's is the biggest name criticized in this report. It was the name most used in headlines, such as: Chain Reaction antibiotics report fails 22 of 25 burger chains, including McDonald's.
So I thought I'd ask the burger chain whether its feelings were hurt at being failed so publicly.
A McDonald's spokeswoman didn't sound amused. She told me: 
Preserving the effectiveness of antibiotics for future generations is highly important to McDonald's. In 2016, McDonald's fully implemented its pledge to no longer serve chicken treated with antibiotics important to human medicine in its US restaurants, which led to the 2018 implementation of an antibiotic use policy for broiler chicken in markets around the globe.
So you see, McDonald's isn't unaware of its social responsibilities.
Where's the beef, McDonald's? The spokeswoman again: 
McDonald's is currently finalizing a global antibiotics policy for beef, to be announced before the end of 2018.
Why did it take so long? Isn't it painful that Wendy's is above you, even if the witty-Twittering chain only scored a D-?
McDonald's final words were these:
Our 'Global Vision for Antibiotic Stewardship in Food Animals' provides guidance for the development of policies, and utilizes antibiotic categorization established by the World Health Organization. 
Look, McDonald's seems to cry, we're working with the WHO. What more do you want?
McDonald's has much going on in just about every aspect of its business. It's a cumbersome organization that's desperately fighting more nimble and more modern competitors.
So now it bristles at accusations of being unhealthy.
Now, about all the calories in those fries.
Why did Apple's Jony Ive name Pinterest co-founder Evan Sharp as one of the figures in technology who he believes will change the future?
If you were wondering about that, here's a great chance to learn a little bit more about Sharp and make the call yourself. During the 25th anniversary festival for WIRED last week, the Gadget Lab team had the chance to interview Sharp on stage, among other high-profile technologists. Over the next few weeks we'll be publishing these taped conversations as a part of the podcast.
In this particularly interview, Mike and Arielle ask Sharp what it's like to receive praise from Ive, how machine learning is changing software design, and whether Pinterest can remain once of the internet's last happy places.
Show notes: Click here to read more about Jony Ive's nomination of Evan Sharp for our 25th anniversary issue. And here's Lauren's WIRED 25 interview with Kevin Systrom, which we mentioned in this week's show.
Recommendations this week: Lauren recommends the Dakota backpack from Dagne Dover. Mike recommends these awesome smartphone accessory lenses made by Moment.
Send the Gadget Lab hosts feedback on their personal Twitter feeds. Arielle Pardes can be found at @pardesoteric. Lauren Goode is @laurengoode. Michael Calore can be found at @snackfight. Bling the main hotline at @GadgetLab. Our theme song is by Solar Keys.
How to Listen
You can always listen to this week's podcast through the audio player on this page, but if you want to subscribe for free to get every episode, here's how:
If you're on an iPhone or iPad, open the app called Podcasts, or just tap this link. You can also download an app like Overcast or Pocket Casts, and search for Gadget Lab. And in case you really need it, here's the RSS feed.
If you use Android, you can find us in the Google Play Music app just by tapping here. You can also download an app like Pocket Casts or Radio Public, and search for Gadget Lab. And in case you really need it, here's the RSS feed.
We're also on Soundcloud, and every episode gets posted to wired.com as soon as it's released. If you still can't figure it out, or there's another platform you use that we're not on, let us know.
Absurdly Driven looks at the world of business with a skeptical eye and a firmly rooted tongue in cheek. 
An airline's crew were lying on the floor, apparently trying to sleep in a brightly-lit room.
It looked a little too perfectly damning, to be honest. 
These were, though, 24 members of four Ryanair crews stranded by weather in Málaga, Spain and not provided with a hotel by the airline.
This is a Ryanair 737 crew based in Portugal, stranded in Malaga, Spain a couple of nights ago due to storms. They are sleeping on the floor of the Ryanair crew room. RYR is earning €1.25 billion this year but will not put stranded crews in a hotel for the night. @peterbellew ? pic.twitter.com/lILWZVqqGj

— Jim Atkinson (@Jimbaba) October 14, 2018
So it took to Twitter and Facebook and posted video of the crew staging the image.
I asked Ryanair whether this wasn't a slightly unseemly move, one that may even have privacy implications.
An airline spokeswoman told me: 
The publication of this video reveals the facts and exposes the SNPVAC union fake news/false claims.This video proves that the original picture was staged and no crew 'slept on the floor.' All Ryanair offices and crew rooms are equipped for security reasons with CCTV cameras and notifications of same as required by GDPR [General Data Protection Regulation]. 
Why, though, didn't the airline offer the crew a hotel for the night? Ryanair's spokeswoman insisted: 
Due to storms in Porto (13 Oct) a number of flights diverted to Malaga and as this was a Spanish national holiday, hotels were fully booked.  The crew spent a short period of time in the crew room before being moved to a VIP lounge, and returned to Porto the next day (none of the crew operated flights).
Oddly, local resident Alex Macheras noted that Booking.com showed more than 1,800 hotel rooms available in Malaga that night.
Update: 24hrs later, unfort no response from #Ryanair's COO @PeterBellew

'Sala VIP' lounge confirmed to me they have record of all visitors, no Ryanair crew entered,& the lounge closed at 11pm.

Booking .com say 1,834 rooms were available in Málaga areahttps://t.co/OtcaHr6H8N

— Alex Macheras (@AlexInAir) October 15, 2018
Ryanair's Chief Operating Officer Peter Bellew insisted that the airline had called 42 hotels.
Dear Alex. Please check VIP lounge at Malaga who kindly opened at 0515 to assist our crew and pax. The weekend was fiesta nacional de espana and Malaga packed. Our handler called 42 hotels near airport who were full. Apologies for inconvenience.

— Peter Bellew (@peterbellew) October 15, 2018
There was nothing for it but to dutifully ask Bruno Fialho, vice-president of the SNPVAC union, to offer me his two minutes on Ryanair's claims.
Please Fasten Your Seat Belts. 
Fialho's version was a little different.
He told me that the 24 crew members were placed in the Ryanair crew room "so that they were kept isolated from the hundreds of passengers that were in the terminal."
It was 1.15 a.m. Then, Fialho told me: 
For hours, the Crew attempted to contact Ryanair OPS and LESMA (local RYR Ground handling agent) to obtain information about the hotel accommodation and both replied that there weren't any hotels available. The Crew also contacted directly some hotels in the Málaga area and there were rooms available.
This is already not looking good. Fialho says that the crew were sent to an airport lounge at around 3.45 a.m. There were chairs, sofas and toilets available, but no food or drinks.
Next, Fialho says, the crew were told they'd be flown to Portugal on a 10 a.m. flight, but still no food or drinks were offered. In addition, Fialho says, the crew was guarded by security personnel, preventing them from leaving.
Then, mordant comedy. Fialho told me: 
After the security guard made several phone calls, the Crew was allowed into the airport terminal to have some breakfast. Finally, at 9 a.m. the LESMA duty manager informs that he managed to get a hotel for everyone. However, the Crew was already informed of the flight at 10:00 a.m. (just 1 hour later) which the duty manager wasn't aware.
No, it wasn't over. Fialho again:
At 09.55 a.m. the Crew is sent on a bus to the aircraft with the information that 2 pilots were already there to take the aircraft ferry to Porto. When they got there, the aircraft was closed and the crew were left on the ramp. The Pilots decide to open the aircraft to wait inside as the weather conditions were adverse.
So the took off shortly afterwards, right? Well, no, says Fialho.
At 10.40 a.m. the Crew is informed of a 2 hour slot restriction and that they have to wait for another 10 pilots from Málaga Airport and other bases to take the same flight to Porto in order to operate the afternoon flights. The operating captain didn't have permission to leave Málaga before those 10 pilots arrived.
Please tell me you're still with me, as there's more. A lot more. Next, Fialho says:
At 11.20 a.m., the Crew asks the operating Captain to open the aircraft bars and get something to eat, a request that was denied by Operations. The Crew decided to ignore the instruction and opened the bar anyway, as they were feeling very hungry.
Fialho says that the flight finally landed in Porto at 1.42 p.m. Worse, he says, the Crew Controller was convinced that the crews had been given hotels and were properly rested, so they were being scheduled for new flights.
Yes, I hear you cry, but what about the staged photo? According to Fialho: 
The photo was a gesture of protest, that immediately became viral. Laying on the floor was the only option to rest — their 'suitable accommodation.' And precisely due to the unusual, deplorable and despicable treatment given to the Crew, Ryanair became the object of a social media frenzy.
Fialho added another kink to the story of the photo: 
Ryanair rushes to call it 'staged,' but not before the Company's Chief Operating Officer apologized to the crew via Twitter.
Fialho believes this is merely another example of Ryanair's cold-blooded attitude to employee relations. But what about the privacy issue with the video? He told me: 
Regarding the evident breach of the Global Data Protection Regulations we will discuss this in the appropriate institutions. Ryanair did us all a favor by providing evidence that in fact there were no minimum conditions for their employees to spend the night with dignity.
The People's Verdict.
If you look on Twitter and Facebook, sympathy largely rests with the cabin crews. 
Above all, however, a single impression remains — that relations between Ryanair and its employees are parlous at best. 
How you treat your employees says so much about how your company is run. And once employer/employee unpleasantness reaches the public sphere, please imagine what your customers will think.
Then again, I fear that many will merely mutter: "Yup, that's Ryanair for you."
Blockchain technology began with Bitcoin, but it has since been coopted by businesses as the preferred brand name for all sorts of cryptographically spruced up databases. Just about every corporate innovation program is experimenting with, or at least eyeing, the trend—look, boss, we're innovative! But how should companies really approach the technology, if at all?
Answer: with caution and commonsense.
"If you're a CEO and someone is coming to you with a blockchain project, beware," warned Julie Sweet, North American CEO for Accenture, the consulting firm, speaking at the Fortune Global Forum in Toronto, Canada, on Wednesday. Sweet thrust her fingers upward to couch the phrase "blockchain project" in air quotes.
"Blockchain is a technology, not an outcome," Sweet said. While the tech is "ripe for experimentation and pilots, it has to start with, what's the business challenge or opportunity?"
The business side of a company should lead any blockchain foray, Sweet said. Businesses must have a "clear ROI," or return on investment, in mind before partnering with the technology side to move ahead on a pilot.
In March, Accenture teamed up with DHL, the German shipping giant, on a blockchain trial designed to track and trace medicine distribution for the pharmaceutical industry, Sweet said, citing one example. The partnership started by identifying a problem—rooting out counterfeit drugs—and it recognized that blockchain tech presented a "big opportunity" to address the issue, she said.
Sweet's second piece of advice involved when and how deeply companies should wade into the depths of blockchain experimentation. "Today, given the state of the industry, the technology, and the complexity, for most companies the answer is still going to be monitor and participate as opposed to being a first mover," she said.
In other words, businesses should maintain their awareness of what's going on, but shouldn't upheave their operations in order to be the first out the gate with some ill-considered blockchain stunt. The industry is nascent, and there are plenty of kinks still to work out.
Christine Moy, J.P. Morgan Chase's blockchain program lead, who spoke on the panel alongside Sweet, agreed with the Accenture CEO's guidance. Moy described how her team embeds itself with the heads of J.P. Morgan's various lines of business in order to understand their overall strategies, priorities, and pain points before pursuing a blockchain application.
Moy offered an anecdote about her team's early experience working with the bank's treasury services business, which handles trillions of dollars in payments per day. When the group dug into the potential for a blockchain network to revamp cross-border transactions, it realized the cost of implementing such a system would outweigh the benefits.
"Everyone was a little bit bewildered because, from a clearing and settlement standpoint, the actual mechanism of clearing and settling a cross-border payment works just fine," Moy said. Put another way, the bank did not see a reasonable return on investment.
"Whatever incremental optimization a blockchain could enable when stood up against the business case of having to retire legacy systems and migrate off and build an entirely new system, it just didn't really make sense," Moy said.
So Moy's team reevaluated its approach. Eventually, it identified a real problem that did seem suited to a blockchain-based solution: consolidating international sanctions-related information into a single database shared among correspondent banks.
Sometimes payment instructions "just get stuck in the middle" as they're passed through a "daisy chain" of intermediary banks, Moy said. The hold-ups are often the result of some bank requesting more information about the recipient of a transaction.
"Then it's telephone calls, emails back up the chain—who has the information—I'm waiting," Moy said, mentioning that delays can take anywhere from a "couple days to a couple weeks even."
Moy's team viewed this as a perfect fit for blockchain tech. Now the team's "interbank information network," which went into production two weeks ago with 90 participants, she said, lets banks swap that information on a blockchain.
In the beginning, everyone thought blockchain was "going to change the world, it's going to disintermediate everyone—banks and clearing houses and everything," Moy said. "Now we've come to this next level of maturity where we think of it less as disruption and more as transformation."
Alex Tapscott, another panelist and coauthor of a popular book on the technology called Blockchain Revolution, urged members of the audience not to get too comfortable with the wait-and-see approach, noting that the Internet blindsided—and overturned—many businesses that failed to recognize its potential.
"If I'm in the CEO seat in 1994, I might think the Internet is just a medium for publishing information," Tapscott said. That mentality led many business leaders to fatally ignore the potential for the technology, he said, citing the recent bankruptcy of Sears, once the nation's biggest retailer, as proof.
"You have to take a step back and understand what could this could represent down the road," continued Tapscott, who cofounded the Toronto-based Blockchain Research Institute, a think tank that studies the technology and partners with businesses on projects.
Sweet, however, reiterated that companies must maintain a targeted, business-first focus. "If it doesn't have an ROI, then it's not worth doing," she said.
So, before you go ripping up your legacy systems and diving headfirst into blockchain, first consider these executives' words of wisdom: What is it good for? How involved should my company be at this moment? And will I end up like Sears if I don't?
HANGZHOU, China (Reuters) – Humming away in an industrial estate in the eastern Chinese resort city of Hangzhou, electric vehicle designer Automagic is one of hundreds of companies looking to ride the country's wave of investment in clean transportation.
The company wants to find a niche in a crowded sector that already includes renewable equipment manufacturers, battery makers and property developers like the Evergrande Group, as well as established auto giants.
But not all of these electric vehicle hopefuls will make it to the finish line.
"This (large number of firms) is inevitable, because whenever there is an emerging technology or emerging industry, there must be a hundred schools of thought and a hundred flowers blooming," said Zhou Xuan, Automagic's general manager, referring to Chinese leader Mao Zedong's ill-fated 1956 "Hundred Flowers" campaign aimed at encouraging new ideas.
China is using preferential policies and brute manufacturing power to position itself at the forefront of global efforts to electrify transportation. By the end of 2017, ownership of new energy vehicles (NEV) – those powered by fuels other than petrol – reached 1.8 million in China, over half the world's total.
With market expectations high, Chinese EV maker NIO, a rival to Tesla, launched a high-profile IPO in New York last month.
In July, the industry ministry published a list of 428 recommended NEV designs built by 118 enterprises throughout the country. It included not only established carmakers like FAW Group and Geely Automobiles, but also small, new entrants with names like Greenwheel, Wuhu Bodge Automobiles and Jiangsu Friendly Cars.
But regulators are already concerned about overcapacity and "blind development." As subsidies are cut, smaller start-ups need to develop a competitive edge.
"After a period of intense competition, the rocks will appear, and the weak will be consolidated or eliminated," Zhou said.
STRATEGIC GLUTS
Overcapacity has been a persistent concern for many Chinese industries, with thousands of firms, backed by growth-hungry local governments and supported by risky loans, expanding quickly.
Over the years, China has been forced to take action against price-sapping supply gluts in steel, coal and solar panels, among others.
Electric vehicles could be next, as local governments feel pressure to create champions while following state instructions to "upgrade" their heavy industrial economies.
Some executives say the market is already distorted by subsidies granted to inefficient and poorly performing firms.
"Right now, the rapid growth of NEVs is not a market choice but government-guided behavior, with growth stimulated by subsidies," said Li Lei, deputy director of the new energy department of Jiangxi Dacheng Autos, a new joint venture carmaker in eastern China's Jiangxi province.
Though sales soared 88 percent in the first eight months of 2018, hitting 601,000 units, the National Development and Reform Commission (NDRC) has promised to tackle irrational growth in the sector.
In draft rules released this year, it said it would "plan and arrange the new energy vehicle industry scientifically," and block new production capacity in regions where the utilization rate was less than 80 percent.
But China has often relied on "strategic" supply gluts to boost competitiveness. Excess production in solar power forced producers to reduce costs and compete, subsidy-free, with conventional energy sources.
Liu Xiaolu, sales manager with ICONIQ Motors, a Tianjin-based luxury electric vehicle maker, said the large number of companies could be a "necessary stage" of development for the sector.
"You cannot say that 20 enterprises will definitely be able to develop the entire industry by themselves, and it probably needs everyone to come together, and then gradually get eliminated afterwards," he said.
COMPETITIVE EDGE
Established automakers told Reuters they'd already had plenty of time to prepare for the shift towards electric transportation.
Xu Hongfei, general manager with Zotye Automobile, a mid-sized Chinese automaker, said it had been preparing for China's "exit schedule" from traditional vehicles for more than a decade and had developed core technologies such as batteries.
With a staff of 20, Automagic was founded in 2015 by former engineers from IBM and Geely. It is talking with partners to bring its models to the market.
The company is focusing on small, short-distance family vehicles rather than large-scale cars built by the likes of BYD. It is also seeking better ways to produce, recharge and recycle batteries.
"The most important point is that new energy vehicles need to be energy efficient, with low energy consumption, so we focus on cutting weight and making cars smaller so battery use can be reduced," said Zhong Jin, Automagic's co-founder and chief executive.
GCL, one of China's biggest renewable developers, plans to turn its "new energy town" at Jurong in Jiangsu province into a major manufacturing center with its expertise in batteries and recycling expertise, and even create a battery rental system.
Although all the companies are trying to get an edge through innovation, Li of Jiangxi Dacheng said success could simply come down to market positioning.
"Our company doesn't have any very big advantages or very big disadvantages and competition is dependent first on branding, second on financing, and third on sales channels," he said.
Additional reporting by Shanghai newsroom; Editing by Gerry Doyle
Paul Allen has died. The co-founder of Microsoft, and an investor who bet often far in advance on new technology, medical research, and urban initiatives was 65. His real-estate venture, Vulcan, released news of his death the afternoon of Oct. 15 in Seattle.
Vulcan CEO Bill Hilf said in a statement, "All of us who had the honor of working with Paul feel inexpressible loss today. He possessed a remarkable intellect and a passion to solve some of the world's most difficult problems, with the conviction that creative thinking and new approaches could make profound and lasting impact."
The statement showed the diversity of Allen's interests, as it was made on behalf of the company; Allen's two sports teams, the Seattle Seahawks and Portland Trailblazers; Stratolaunch Systems, a firm designing an air-based space-launch system; and two non-profits: the Allen Institute, a bioscience research organization, and the Allen Institute for Artificial Intelligence, which focuses on providing free data and tools to AI researchers.
Allen had suffered multiple bouts of cancer, starting with a diagnosis in 1982, just seven years after he and Bill Gates founded Microsoft together. He recovered, but contracted a different in 2009, from which he was also considered in remission. On Oct. 1, he and his firm posted the latest diagnosis. He was optimistic about the outcome.
Allen's sister, Jody Allen, said in statement provided by Vulcan and on behalf of his family, "While most knew Paul Allen as a technologist and philanthropist, for us he was a much-loved brother and uncle, and an exceptional friend. Paul's family and friends were blessed to experience his wit, warmth, his generosity and deep concern."
Through Vulcan and other investments, Allen was instrumental in reshaping Seattle's building landscape to provide the space as a first home for companies founded in the city, like Amazon, as they massively expanded, and as increasingly large outposts for Silicon Valley firms like Google and Facebook.
We have a normal economic calendar with a focus on housing data. Earnings season will be in full swing. The background for this news will, of course, be the stock market volatility and decline of the past week. That story will command the early-week attention, especially if aggressive selling resumes. Recent earnings seasons have buoyed stocks, leaving the punditry with this question: Can earnings season spark a rebound in stocks?
Last Week Recap
In my last edition of WTWA I took note of rising interest rates asking whether they signaled the beginning of the end for the stock rally. That was a good call. The question dominated financial news on Monday and Tuesday, even though stocks barely moved. It was almost as if the news coverage was pre-planned, and events did not matter. That changed on Wednesday, when the major market decline gave legs to the story. The last edition of WTWA provided a good preview of this, but certainly no prediction of the sharp selling.
The Story in One Chart
I always start my personal review of the week by looking at a great chart. I especially like the version updated each week by Jill Mislinski. She includes a lot of valuable information in a single visual. The full post has even more charts and analysis, including commentary on volume. Check it out.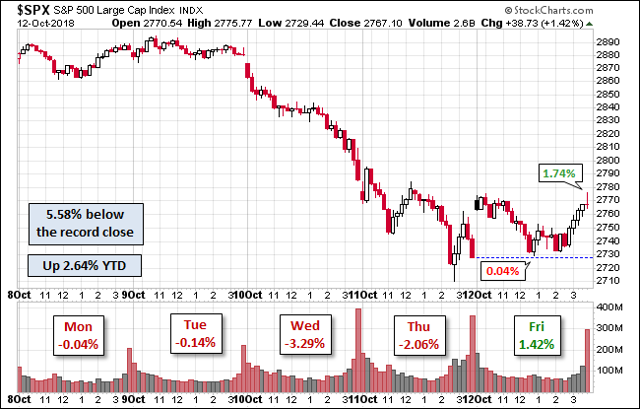 The market declined 4.1% on the week. Wednesday saw the largest single-day loss since February. The weekly trading range was about 6.4%. Volatility spike higher, exceeding the long-term averages. The VIX implied volatility measure remained higher than the actual results. I summarize actual and implied volatility each week in our Indicator Snapshot section below.
Noteworthy
Have you already purchased your last car? Justin Rowlatt (BBC News) raises the provocative question and provides plenty of evidence. Internal combustion engines have 2000 parts, compared to about 20 for electric cars, which may have life spans of 500,000 miles.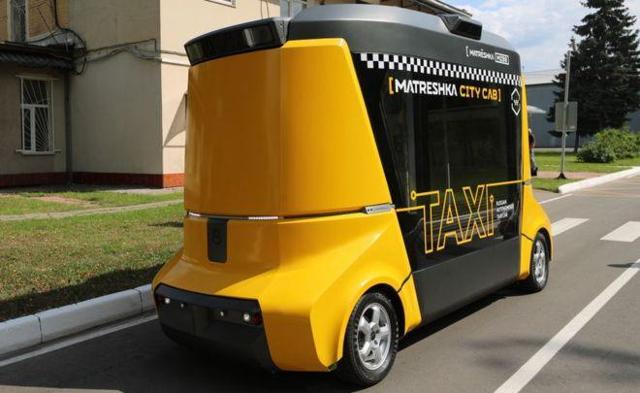 The News
Each week I break down events into good and bad. For our purposes, "good" has two components. The news must be market friendly and better than expectations. I avoid using my personal preferences in evaluating news – and you should, too!
When relevant, I include expectations (E) and the prior reading (P).
The Good
Inflation data remained benign. PPI registered a gain of 0.2% up from P of -0.1% but in line with expectations. CPI gained only 0.1% P 0.2% headline and 0.1% core. E 0.2%.
High Frequency Indicators have turned positive, including the long-leading cluster. New Deal Democrat's helpful weekly update breaks the data into two groups, providing both detail and a summary on each. The long-leading group has shifted back and for recently, and he continues to monitor it closely. For now, it is positive.
Economic growthfor Q3 and forward remains strong. Calculated Risk summarizes the key sources, "It looks like GDP will be in the 3s in Q3".
Market sentiment has turned negative – very negative. David Templeton (HORAN) updates the Fear and Greed picture, a positive contrarian factor.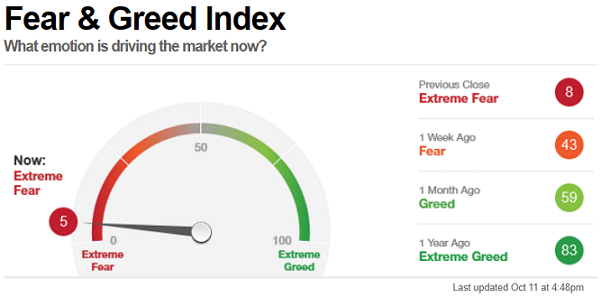 The Bad
As has been the recent case, most of the "bad" news consists of indicators slightly off the best levels.
NFIB Small Business optimism was slightly off the high from last month – 107.9 vs. 108.8. Bespoke also looks at the reasons behind the headline number.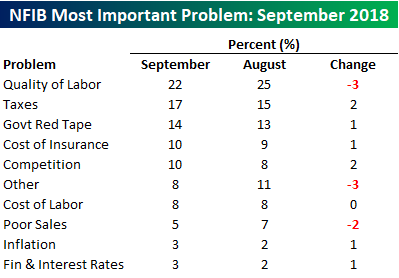 Initial jobless claims rose to 214K E 208K P 207K
Michigan sentiment declined to 99.0 E 100 P 100.1. Bespoke notes that sentiment remains near the recent highs and highlights the move in inflation expectations. Expectations for income growth were also lower. The survey period captured only part of last week's decline, and probably none of it for most respondents.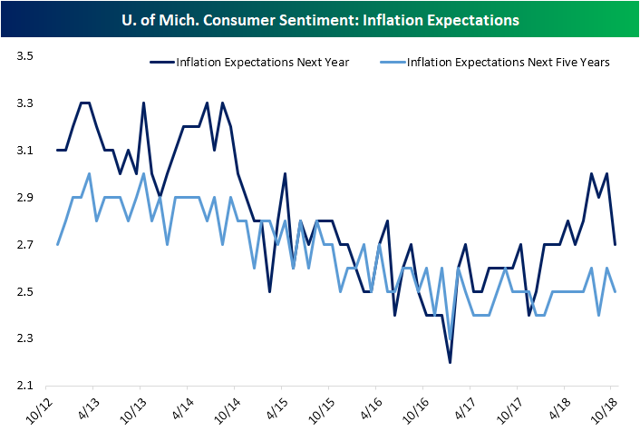 The Ugly
Hurricane Florence led to 51 deaths and estimated damages of $30 billion to $50 billion. The events have also exposed other problems. The Bipartisan Policy Center provides a good analysis, with this comment on some needed reforms:
Hurricane Florence has, like many other recent disasters, exposed a variety of flaws in the pre-disaster and post-disaster policies of the United States. These gaps undermine the nation's resilience, endanger residents, and further jeopardize the soundness of already aging infrastructure. For immediate recovery needs, Congress has repeatedly turned to supplemental funding as short-term fixes, but to prevent this level of destruction from reoccurring in the wake of the next disaster, there needs to be a dramatic overhaul of the national infrastructure investments and disaster framework. Spending more upfront, with a focus on increased resiliency and mitigation, saves money when a disaster hits. For every $1 spent on mitigation, an estimated $6 is saved that otherwise would have been spent in recovery costs.
The Week Ahead
We would all like to know the direction of the market in advance. Good luck with that! Second best is planning what to look for and how to react.
The Calendar
The calendar is a big one, with a strong emphasis on housing. Also featured will be retail sales, the Fed minutes, and leading indicators. The Philly Fed has its fans, and it has had some market-moving moments. A favorite of mine is the JOLTS report, which has special significance as our best read on the tightening labor market.
It is also a big week for Q3 earnings reports, where we had our first taste last week. Many large companies will report. Expectations are for continuing increases in the 20% range on a year-over-year basis. (Barron's).
Briefing.com has a good U.S. economic calendar for the week (and many other good features which I monitor each day). Here are the main U.S. releases.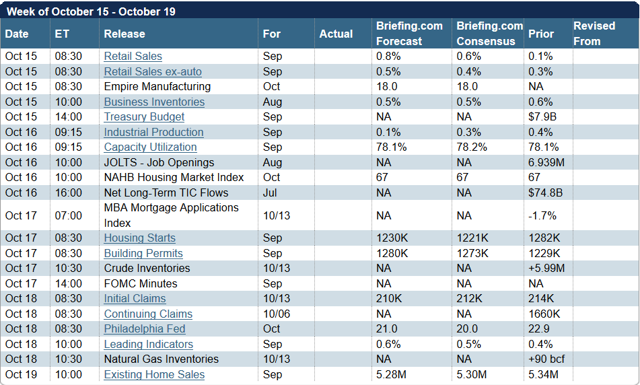 Next Week's Theme
Once again, I expect last week's news to linger into the week ahead. My hope is that the story will turn to earnings season and substantive stock news. For the moment everyone is preoccupied with last week's big stock declines. Mrs. OldProf and I were watching an interview with a European notable who described the stock decline as either a healthy correction or the start of a new trend. She astutely observed that he certainly had all the bases covered! By week's end I expect pundits to be asking: Can earnings season generate a rebound in stocks?
But for the moment, we need to review the week behind. Sometimes an understanding of that is necessary to plan for the week ahead.
As is my custom, I will cite a range of viewpoints and include some links. I will organize these into two sections: Alleged causes and Recommended strategies.
Causes
Valuation – Always cited when stocks move a bit lower.
Profit Taking – A tried and true reason when a rising market changes course. (Barron's, which also mentions some of the other potential causes listed here).
The Fed – Now apparently less data dependent, planning to keep raising rates above neutral regardless of the strength of the economy. Leading Fed guru Tim Duy notes the increased importance of the "dot plots," the report of individual Fed participants expectations for future rates.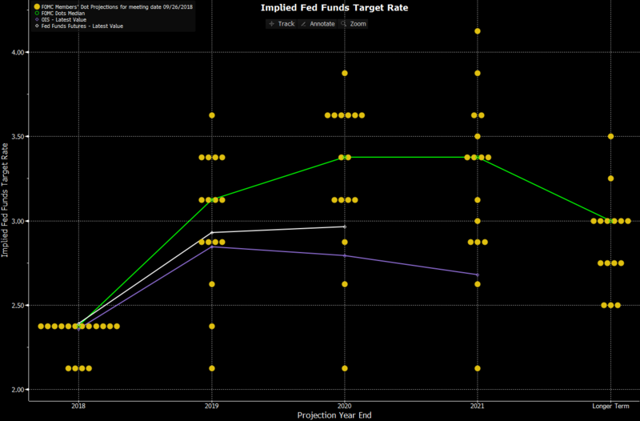 Tariffs – Dr. Ed Yardeni analyzes the impact of various tariff announcements and muses on the possibility that a trade war with China is now the "base case" as JP Morgan suggests. Dr. Ed believes:
…the US economy will be strong enough to boost S&P 500 earnings by 6.8% to $173 per share, which has been our number for next year for a while. I don't think that the escalating trade war with China will be the event that ends the bull market in the US (Fig. 3). However, it may already be marking the beginning of a severe and prolonged bear market in China (Fig. 4).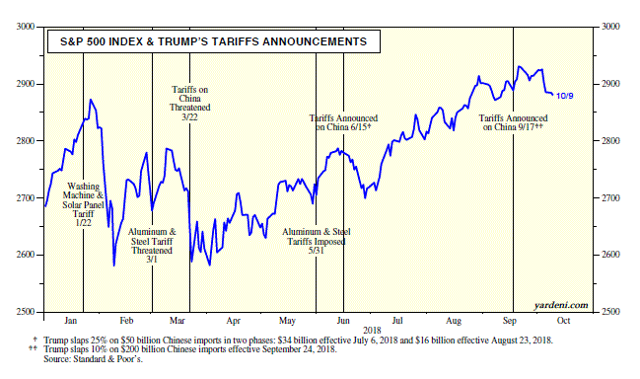 Interest rates – The standard shorthand explanation from major news sources.
Technical signals – Eddy Elfenbein notes that Thursday's trading took the S&P 500 below its 200-day moving average, a widely-followed technical indicator. Eddy also observes that panic is not indicated. The two-day loss is not that unusual, and not even the worst for 2018. The chart below illustrates both points.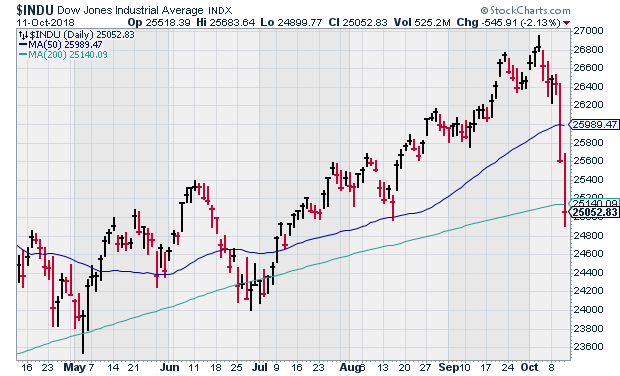 Algorithms — blamed for anything and everything.
Emotion — Just another panic attack writes Scott Grannis. He concludes, "It wouldn't be surprising to see prices decline further, but it would be surprising if this proved to be the beginning of a major rout or recession". In his summary of key indicators, he includes an interesting chart of VIX peaks. He creates a ratio with the ten-year note yield. It is a coincident measure.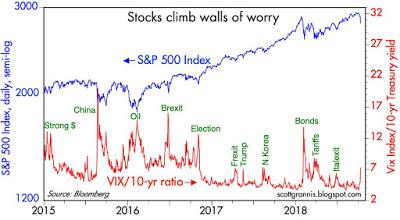 What to do now?
Buy bonds, say bond fund managers and bond research houses. Flirting with Models offers some alternatives for diversification.
Buy gold (or silver) say the fear-inspiring commercials.
Sell everything – the verdict of many investment newsletters
Don't panic? Cullen Roche explains why this admonition is not helpful.
Buy the dip – David Templeton (HORAN) takes a good look at the data, concluding:
Some might say the decline has caused damage to the market, but a better phrase might be created opportunity. As the below chart shows only 11% of S&P 500 stocks are trading above their 50 day moving average. The last time this occurred was in February earlier this year. That turns out to be a low point in the market so far in 2018. In regards to the 200 day moving average, 41% of stocks are trading above that level, again similar to the early 2018 market low.
Buy with both hands – Ralph Vince sees the current opportunity as "juicy."
Get perspective by considering data – then figure out how it applies to you. Brett Steenbarger explains both.
In today's Final Thought, I'll add a few of my own observations.
Quant Corner
We follow some regular featured sources and the best other quant news from the week.
Risk Analysis
I have a rule for my investment clients. Think first about your risk. Only then should you consider possible rewards. I monitor many quantitative reports and highlight the best methods in this weekly update.
The Indicator Snapshot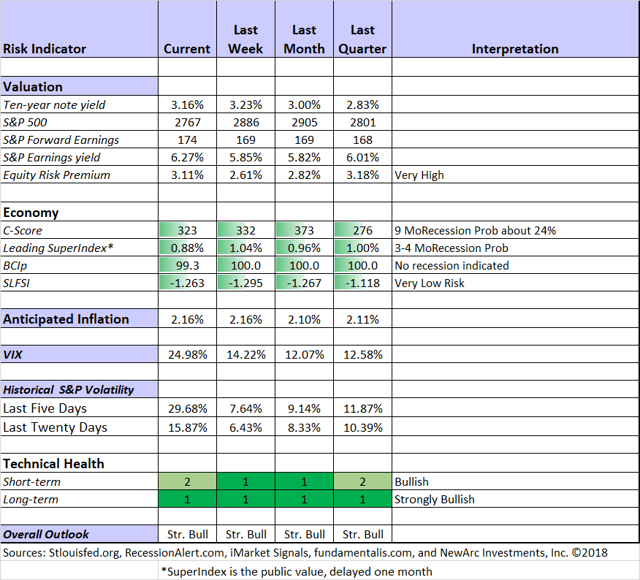 Short-term trading conditions remain favorable, despite some deterioration. The overall health indicator for our models remains positive, although some of the individual models stopped out specific positions. Super-high volatility is not attractive for most trading systems. If these high levels continue, I expect further deterioration next week. The VIX spiked much higher than actual volatility, indicating sentiment worse than the reality.
Fundamentals indicators are all solid, with stocks much more attractive than recently. The earnings yield advantage over the S&P 500 has improved significantly.
The Featured Sources:
Bob Dieli: Business cycle analysis via the "C Score.
Brian Gilmartin: All things earnings, for the overall market as well as many individual companies.
RecessionAlert: Strong quantitative indicators for both economic and market analysis.
Doug Short and Jill Mislinski: Regular updating of an array of indicators. Great charts and analysis.
Georg Vrba: Business cycle indicator and market timing tools. None of Georg's indicators signal recession. Here is the latest chart on the Business Cycle Index.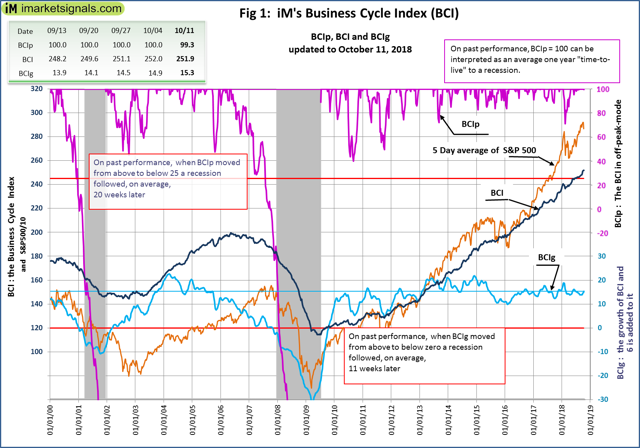 Insight for Traders
Check out our weekly Stock Exchange post. We combine links to important posts about trading, themes of current interest, and ideas from our trading models. This week we asked whether traders thought they could actually understand the stock market. Or perhaps they were just pretending. In many ways, it is a companion to today's post, but with a trader orientation. We shared advice by top trading experts and discussed some recent picks from our trading models. Our ringleader and editor, Blue Harbinger, provided fundamental counterpoint for the models, all of which are technically-based.
Insight for Investors
Investors should have a long-term horizon. They can often exploit trading volatility.
Best of the Week
If I had to pick a single most important source for investors to read this week, it would be Ashby Daniels' (Retirement Field Guide) discussion of emotions and retirement planning. He illustrates his ideas with the story of an actual investor who made a knee-jerk market call that turned out well – at least for a few percentage points. Now what?
He writes:
Many people are quick to say that they aren't market timers (nobody likes to be labeled as such), but then in the next sentence proceed to ask what I think of the market and whether now is a good time to invest more or to take some chips off the table.
In fact, the question, "What do you think of the market?" is by far the most popular question that I get asked. I just want to be on the record in saying that, "Anything other than establishing a portfolio built specifically for you and sticking with that portfolio is an attempt at market timing." With the exception of life changes, how could it be anything else?
Read the full article for some good ideas about how to plan and stick to the plan. [Jeff – I suppose I like his approach since it is so close to my own, but there is nothing wrong with that].
Stock Ideas
Chuck Carnevale provides his usual comprehensive analysis combined with a lesson in using data. He sees Whirlpool [WHR] as a cheap stock with little downside. Be sure to watch the video to see why he calls this a "fire sale valuation."
Blue Harbinger also surveys beaten-down names and finds one from his watch list, Ship Finance International (SFL).
Alphabet? (GOOG) Stone Fox Capital likes the opportunity, IF the company dodges or resolves regulatory issues.
They also like Advanced Micro Devices (AMD), calling market fears about competition with Intel (INTC) unwarranted.
Eddy Elfenbein does not make a specific recommendation, but he takes note of the current weakness in semiconductors, after years of strength.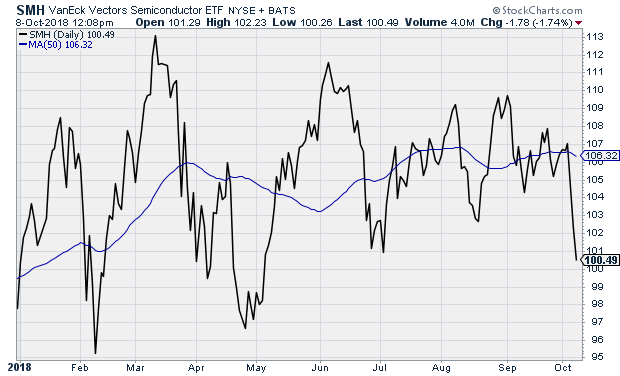 Personal Finance
Seeking Alpha Senior Editor Gil Weinreich's Asset Allocation Daily is consistently both interesting and informative. His upbeat analysis,4 Ways to Prevail Over Automation, is factual, pragmatic, and inspirational. Later in the week, his thoughts were more sobering. He challenged investors to consider how they would consider a prolonged decline. That is a topic that everyone should think about in advance.
Abnormal Returns is an important daily source for all of us following investment news. His Wednesday Personal Finance Post is especially helpful for individual investors. This week had several good posts on retirement. I especially liked Mike Piper's warning that you might not be able to pick your retirement age. He combines data with some good examples. And, today's Best of the Week (above).
Watch out for…
Bonds. The Mad Hedge Fund Trader says The Fat Lady is Singing for the Bond Market.
Final Thought
What caused the sharp market decline? Interest rates are a poor explanation, since the entire yield curve was the same on Wednesday morning as it was on Friday. Astute traders scoffed at the explanations offered (Avi Gilburt).
I covered the possible pattern in last week's edition, which was an accurate preview. Briefly put, a smidgen of news sparks some trading from both human traders and algorithms. This is directionally correct, but without analysis of the overall significance. The selling often spreads to an ETF that has concentrations in the affected stocks. Sometimes prices that are viewed by some as important "technical" levels are violated. This sparks selling by a different group of traders. Despite the lack of overall logic or a cohesive explanation, the financial news must satisfy demand for an explanation. I wrote last week:
Every time the market makes a small move we are bombarded by observers predicting the worst. It is important to remember that declines of 15-20% happen regularly and without any particular reason. No one can predict these accurately, so the average investor should learn to take advantage of the movement rather than falling for the persistent pseudo-warnings. Alan Steel calls it the Fear Economy, and reviews the history of predictions by one prominent uber-bear.
Alan Steel has another great post. Starting with a bearish call from one economist from a big institution, he traces the consequences:
Let's face it they'd seen articles written by "proper experts" reminding readers that October was a dangerous month to invest in shares.
Mark Twain used to say that yonks ago. Although he also reckoned that February, December, August, May, January, July, September, March, November April and June were, too. Say no more.
No matter what we said this couple of perpetual worriers cashed out and stuck their significant life savings in bank deposit, assuring us they'd reinvest when it felt better. So when would that be? "When the market's higher of course". No, they didn't spot the irony. So three years later how have they done? Not good I'm afraid . Earned literally sod all in interest, and lost money in real terms thanks to inflation.
And also this…
In August 2010 an analysis was made of ten renowned economic experts and their predictions related to an imminent "double-dip recession" in the wake of the 2007/8 Great Financial Crisis. They included well –known revered figures including Robert Shiller (Prof at Yale University), Bill Gross (Former managing partner at PIMCO), Nouriel Roubini (Prof at New York University) as well as those economists representing Goldman Sachs, The Institute of Directors and the National Institute for Economic and Social Research.
They all saw the probabilities of a double-dip recession as higher than normal. One or two saw the probability as high as 50% to over 60%. And they were wrong. Unless you count the fall in demand for Hummus and Taramasalata in Greece.
[A few months earlier, in May of 2010, I challenged these ideas with my Dow 20K call – the market doubling rather than being cut in half. There were plenty of skeptics, especially on Seeking Alpha. Or this halfway update. And finally, the 2016 CNBC coverage. The important takeaway is that the key indicators I am using have not changed, nor has the avalanche of negativity. The time to worry will come – probably when recession odds move higher.]
Barry Ritholtz offers a challenge on the same concept. He notes that the factors alleged to underly the decline were well known in advance. So many offered great explanations with the benefit of hindsight. But not on Tuesday.
What now? Your best course of action depends upon your personal circumstances and time frame.
If you are a trader, follow your system. Use your stops to exit positions. Get ready for another day.
If you are a passive investor with an "all-weather" portfolio, you should not do anything. This sort of move comes with the territory. If you find it disturbing, then your stock position may be too large. Or you need to spend less time watching the news!
If you are an active investor who determines values of the companies you hold and price targets for the stocks, you should ignore the opinion of the emotional Mr. Market. Take advantage of price disparities to buy or sell as indicated. Volatility provides opportunity.
[Note: If you find these recommendations difficult, you may be using the wrong method. We combine these perspectives to right-size risk. My two papers on investor pitfalls and understanding risk are available at no charge.]
I'm more worried about:
China trade. Any mention of progress or lack thereof generates an immediate market reaction. This issue is important and could provide the catalyst for major gains.
The LIBOR transition. This reference rate for many contracts has proven to be both unfair and unstable. Improvements are coming, but Richard Berner (Bipartisan Policy Center) warns that we should not be complacent during the transition.
I'm less worried about:
Earnings growth. Can it be a catalyst again this month? The reaction to conference calls will give us a sense of the market mood.
Disclosure: I am/we are long WHR, INTC.
I wrote this article myself, and it expresses my own opinions. I am not receiving compensation for it. I have no business relationship with any company whose stock is mentioned in this article.
Additional disclosure: Short calls versus both WHR and INTC.